How Many States Have Legalized Same Sex Marriage?
By Dan Ketchum
Updated September 10, 2019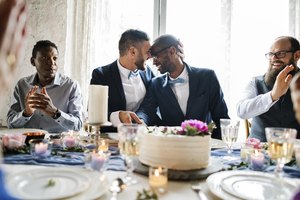 Rawpixel/iStock/GettyImages
In 2015, the United States Supreme Court made same-sex marriage legal in all 50 states, a decision that holds strong today. The journey to that decision, though, was difficult and complex. While other countries legalized same-sex marriage decades earlier than the U.S. – with Denmark leading the pack as the very first in 1989 – the Supreme Court's nationwide ruling didn't happen overnight. The road to legally recognized gay marriage across all the states in the Union traces its history back to the laws of the 1970s, spanning a litany of tumultuous ups and downs before the historic 2015 ruling.
1970s: First Attempts and Opposition
Though the fight for gay rights in America began well before, famously reaching national political attention with the Stonewall Riots of 1969, 1970 marks an important year on the timeline of same-sex marriage legalization in the United States.
In 1970, Michael McConnell and Jack Baker – a same-sex couple in Minnesota – apply for a marriage license in their home state. The couple consider their license legal because state law at the time does not explicitly prohibit people of the same sex from getting married. But upon discovery that both applicants are men, the county attorney orders the clerk not to officially record the marriage license, leaving the McConnells with no proof of legal marriage for decades.
Three years later, in 1973, Maryland goes on record as the first state to officially ban gay marriage by state law.
1980s: Early Signs of Progress
More than 10 years after Maryland's decision, the city of Berkeley reaches an important milestone in equality. In 1984, the California city passes the first domestic partnership law in United States history, extending work benefits that were formerly reserved for married couples to same-gender cohabiting couples.
The year 1987 saw a protest of historic scale in an attempt to attain legally recognized same-sex marriage rights on a national level. On October 10th of that year, roughly 7,000 people witness the mass wedding of nearly 2,000 same-sex couples on the National Mall, staged in front of Internal Revenue Service headquarters in protest of the IRS' refusal to accept jointly filed taxes from homosexual couples.
While The Wedding at the National Mall, as it came to be known, is strictly symbolic, the traditionally progressive states of New York and California make on-the-books legal contributions to same-sex unions just two years later: In 1989, courts in both states rule that same-sex couples are to be defined as families.
1990s: DOMA and Battles in Hawaii
By 1992, the state of Massachusetts follows Berkeley's early example, mandating by law that state employees in same-sex partnerships receive domestic partner benefits. It is the state of Hawaii, though, that stands at the forefront of same-sex marriage debates in the 1990s.
Hawaii's Supreme Court, in 1993, rules that same-sex marriages will not be denied unless there is a compelling reason to bar the union, with Justice Steven H. Levinson writing that "marriage is a basic civil right." William Rubenstein, the director of the American Civil Liberties Union's national homosexual rights project at the time, tells The New York Times that "This is a major breakthrough. This is the first court decision to give serious consideration to gay marriage."
However, the decision does not ultimately lead to Hawaii legalizing gay marriage in the '90s. In response to the court ruling, legislators modify the state constitution to limit marriage to mixed-sex couples. By 1998, same-sex marriage is banned by state law in Hawaii – as it is in Alaska – though the Aloha State becomes the first to offer domestic partnership benefits statewide in 1997. In 1999, Vermont also steps it up with a state supreme court decision that same-sex couples are entitled to the same benefits and protections as married couples under the Vermont Constitution.
A major blow to gay marriage rights arrives on the federal level in 1996, in the form of a bill known as the Defense of Marriage Act, or DOMA. The bill passes the House of Representatives with a vote of 342-67 and is approved by the Senate 85-14 before President Clinton signs it into law. For all federal purposes, DOMA goes on record defining marriage as "a legal union between one man and one woman as husband and wife." More than that, it grants states the right to refuse to recognize same-sex marriages attained under the laws of other states.
2000s: States Lead the Charge
While Vermont is busy granting full legal benefits of marriage to same-sex couples, Nebraska voters approve a state constitutional ban on gay marriage in the year 2000. In 2002, Nevada follows suit with a statewide constitutional ban of their own.
The following year, the U. S. Supreme Court ruling of Lawrence v. Texas strikes down old sodomy laws and grants a constitutional right to sexual privacy. Also in 2003, the state of California passes domestic partnership laws giving gay couples nearly all the rights of mixed-gender spouses in civil marriages. Not long after, a 2004 ruling by the state supreme court of Massachusetts makes it the very first state in America to legalize gay marriage.
Following Massachusetts' lead, New Mexico begins issuing marriage licenses to gay couples in 2004, as their state laws neglect to mention gender, but 26 same-sex marriage licenses are nullified by the state attorney general on the same day they're issued. San Francisco issues nearly 4,000 licenses in an open challenge to the California laws of the day, and the state voids them all a few months later. The city of Portland, Oregon, also begins issuing marriage licenses, which go unchallenged, while Jason West, mayor of the village of New Paltz, New York, marries about a dozen gay couples before receiving a permanent injunction against marrying same-sex couples from the Ulster County Supreme Court.
Washington approves gay marriage and Missouri officially bans it in 2004. Similarly, Arkansas, Georgia, Kentucky, Michigan, Mississippi, Montana, North Dakota, Ohio, Oklahoma, Oregon and Utah all pass state constitutional amendments defining marriage as between a man and a woman only. That same year, a proposed constitutional amendment defining marriage in the same terms fails to pass the U.S. Senate.
By 2005, a New York state court declares the state ban on same-sex marriage illegal, and California fails to pass a law legalizing same-sex unions. On the other side of the country, Connecticut becomes the second state to allow gay marriage. In 2006, the New Jersey Supreme Court also orders the state legislature to legally recognize same-sex unions.
Finally, in 2008, California's Supreme Court manages to overturn the state ban on gay marriages, only to have California voters approve a ban, known as Proposition 8, in the state constitution. One year later, the Iowa Supreme Court also overturns its gay marriage ban while Vermont, Maine and New Hampshire legalize same-sex marriage. Voters in Maine, however, would later repeal their state law.
2010s: The Supreme Court Steps In
From 2010 to 2014, states across the country set up a domino effect, toppling laws against same-sex marriage and making way for 2015's federal decision.
First up, in 2010, California declares Prop 8 unconstitutional. On the federal level, President Obama declares DOMA unconstitutional in 2011, as New York legalizes same-sex marriage by state law. By popular vote, Washington, Maine and Maryland legalize same-sex marriage as well.
In 2013, Rhode Island, Delaware, Minnesota, New Jersey, Hawaii, Illinois and New Mexico all legalize gay marriage. The same year, the United States Supreme Court rules that Section 3 of DOMA is unconstitutional. Section 3 is the part of the law that prevented the government from legally recognizing unions between gay or lesbian couples for the purpose of federal laws or programs, even if the laws of their home state considered the couples legally married. Also in 2013, Utah's same-sex marriage ban is found unconstitutional and – forming a full circle from The Wedding in 1987 – the IRS formally recognizes same-sex married couples.
As the U.S. Supreme Court rules on a case allowing same-sex marriages in the states of Virginia, Oklahoma, Utah, Wisconsin and Indiana, in 2014, the states of Oregon, Pennsylvania, Kansas and South Carolina all legalize gay marriage. Though the Supreme Court decision sets the stage for nationwide legalization, the court does not make a blanket ruling for all states at this time. In 2014 and early 2015, the country sees a storm of state and federal judges striking down or upholding marriage bans across the country, and states issue same-sex marriage licenses to varying degrees of success, until the highest court in the land officially chimes in.
2015: Obergefell v. Hodges
"They ask for equal dignity in the eyes of the law. The Constitution grants them that right." United States Supreme Court, Obergefell v. Hodges, 2015
In June of 2015, in the case of Obergefell v. Hodges, the U.S. Supreme Court officially adopts the position that same-sex couples are entitled to the right to marry and to have those marriages recognized throughout America, under the Equal Protection and Due Process clauses of the United States Constitution. This 5-4 ruling not only finds that denying same-sex couples the right to marry is unconstitutional, it also upholds the notion that all states must recognize legal same-sex marriages, regardless of the state in which that marriage was entered.
Finally, under the Obergefell ruling, same-sex couples were legally granted all marriage-related benefits on the federal level. Essentially, this Supreme Court ruling eliminates the legal distinction between heterosexual and homosexual marriages, on both the federal and state levels.
In the Obergefell decision, the Supreme Court writes, _"_As some of the petitioners in these cases demonstrate, marriage embodies a love that may endure even past death. It would misunderstand these men and women to say they disrespect the idea of marriage. Their plea is that they do respect it, respect it so deeply that they seek to find its fulfillment for themselves. Their hope is not to be condemned to live in loneliness, excluded from one of civilization's oldest institutions. They ask for equal dignity in the eyes of the law. The Constitution grants them that right."
Tips
As of 2015, same-sex marriage is legal in all 50 states of the United States.
References
Writer Bio
As a freelance writer and small business owner with a decade of experience, Dan has contributed legal- and finance-oriented content to diverse sources including Chron, Fortune, Zacks.com, Motley Fool and MSN Money, among others.