California Adoption Requirements
By Beverly Bird
Updated October 11, 2019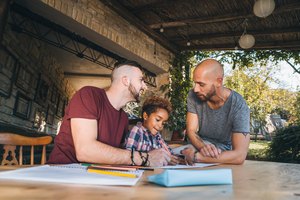 perinjo/iStock/GettyImages
Adopting a child is no different from giving birth, at least from a legal perspective. In either case, a parent assumes the same responsibilities and has the same rights. But adoptions are not one-size-fits-all. California law recognizes stepparent/domestic partner adoptions, private adoptions, agency adoptions and international adoptions.
Adoption in California Requirements
Although there are technically no age restrictions for adoptive parents, they do have to be at least 10 years older than the child they're adopting in most cases. Stepparents, biological aunts, uncles, first cousins and siblings are exempt from this rule, but they'll need court approval. Children age 12 or older must give their consent to the adoption.
Parents hoping to adopt don't have to be married under California law, but they must adopt jointly with their spouses if they are married.
No rules prohibit a parent or parents from working, provided that a childcare arrangement is in place for hours when parents are unavailable. Prospective parents aren't required to own their own homes.
A Clean Criminal Record
Having a criminal history is something of a gray area in California for prospective parents. It can depend on the type of crime that was committed if it was a felony.
A social worker or investigator will look into the situation to determine the circumstances of the conviction, the nature of crime, how long ago it happened and whether the person has rehabilitated. Crimes against children and any involving domestic violence or assault will almost certainly bar the prospective parent from adopting, however.
Private Adoptions in California
Private adoptions, also referred to as "independent" adoptions, are those based on agreements entered into between the birth parents and adoptive parents.
California has passed a law allowing birth parents to retain parental rights even after adoption in these cases if all parties agree. This is a relatively new law, so parents might need the help of an attorney to ensure that they meet all the requirements for this provision.
As the name suggests, stepparent adoptions involve a biological parent's spouse or domestic partner adopting the child as their own. This is actually the most common type of adoption in California.
Parents must be legally married or registered as partners. The biological parent must take steps to terminate the parental rights of the other birth parent before this type of adoption will be approved.
The other birth parent can consent in writing to the adoption, but otherwise, the parent seeking the adoption must ask the court to make a ruling to terminate the other parent's rights. The other birth parent can argue their case against the adoption at a hearing.
When the Other Parent Cannot Be Found
The parent seeking the adoption can also ask the court to rule after doing a diligent search if she doesn't know where the other parent is, or if she doesn't know who the other parent is. Producing a death certificate will suffice if the other parent is deceased. These rules apply even if only the first parent's name appears on the child's birth certificate.
Special Circumstances in Stepparent Adoptions
A special, simplified type of proceeding exists for parents who were married or registered partners at the time the child was born, provided they're still married. The state will waive a home study investigation and no court appearance is required.
Consent is generally not required for children born through artificial insemination by an anonymous donor if only the birth parent pursuing the adoption signed the insemination contract and the hospital records.
Adopting From the Foster Care System
Foster children are children in the California welfare system whose natural parents' rights were terminated by the court for one reason or another. The California Department of Social Services (CDSS) or the county selects adoptive parents.
California's adoption requirements for foster children are more or less the same as those for adoptions through a private agency. Both require home studies. The child is placed with and lives with the prospective parents for at least six months before the adoption is approved. A social worker guides parents regarding any special needs the child might have.
How Much Does It Cost to Adopt a Child in California?
Adoptions costs can range widely in California depending on the type of adoption taking place. Those conducted through a state agency or the CDSS require a minimum upfront fee of $500 as of 2019, and additional costs, including fingerprinting and court fees, can run an additional $100 to $300.
Many costs are covered by the state when a child is adopted from foster care, and the CDSS indicates that many of these fees can be waived, reduced or postponed to a later date under special circumstances.
Fees charged by private adoption agencies aren't regulated by the state and can run as high as $35,000 to $50,000 to adopt a newborn baby. The home study fee for an independent adoption through the state is a significant $4,500 without a pre-placement evaluation, or $1,550 with one.
Assistance to Birth Parents
Many prospective parents provide financial assistance to the birth parents in private adoption situations. They might agree to temporarily pay for the mother's living expenses, medical and hospital expenses, counseling fees and legal fees. This can run about $5,000 or so.
How Long Does It Take to Adopt a Child in California?
Parents looking to adopt through a state agency should anticipate that it will take from six months to a year to get through the assessment stage. Placement of the child in an adoptive home typically takes place from one to three months or so after assessment approval, and the adoption should be finalized approximately six months after that.
The state is obligated to investigate the prospective parents within 180 days of receiving an independent or private adoption petition and half the required fee.
How Do I File for Adoption in California?
The process for adoption can vary somewhat depending on the type of adoption, but it almost always involves certain steps (although not necessarily in this specific order), which include:
Filing an application or petition. This is required in every type of adoption to get the ball rolling. Prospective parents will need at least two copies and must file the petition with the court. Special forms, which the court or an attorney can provide, are required for the adoption of a Native American child.
Serving the petition. Adopting parents must arrange to have the birth parent or parents served with a copy of the filed petition in stepparent adoptions and independent adoptions. Agencies generally provide this service when parents are adopting through one.
Getting the consent of the birth parent. Getting the other birth parent's written consent is necessary in stepparent adoptions, and consent from both biological parents is required in independent adoptions if their parental rights are being terminated.
Attending a court hearing for the termination of parental rights. This step is only necessary in stepparent adoptions when the other birth parent refuses to give consent or is unknown.
Signing an adoption placement agreement. This is the adoptive parent's official consent to adopt a child and it becomes irrevocable within 30 days of signing. It's a required part of the proceedings of adopting a foster child or a child through a state agency.
Attending an initial interview with the case investigator or social worker. This is generally a fact-finding, introductory meeting between a state representative or investigator and the adopting parent or parents. In cases of foster adoption, the social worker will help parents in determining the right child to adopt.
Participating in a home study/investigation. Home studies involve inspecting the prospective parents' homes for cleanliness and safety, ensuring that they meet home requirements for adoption in California, as well as interviews with all family members to make sure that they're supportive of the adoption. These studies involve a financial assessment to ensure that prospective parents can afford to raise a child, although there are no precise income requirements for adoption in California. Home studies include a background and criminal history check and verification of employment, and prospective parents will be fingerprinted.
Attending adoption-training classes. Some adoptions through the state require that prospective parents attend training.
Attending the adoption hearing. The adoption is finalized at a formal court hearing, assuming all other steps have been successfully completed.
References
Writer Bio
Beverly Bird has been writing professionally since 1983. She is the author of several novels including the bestselling "Comes the Rain" and "With Every Breath." Bird also has extensive experience as a paralegal, primarily in the areas of divorce and family law, bankruptcy and estate law. She covers many legal topics in her articles.