What is California's Same Sex Marriage Law?
By Beverly Bird
Updated September 03, 2019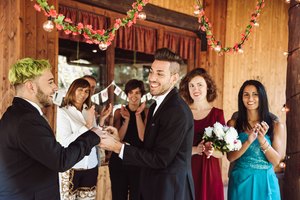 franckreporter/E+/GettyImages
The relationship between the state of California and same-sex marriage has been an erratic hodgepodge of state and federal laws that date back decades. Same-sex marriage technically became legal in the state in June 2013, thanks to the U.S. Supreme Court, but not for the first time. This official nod of approval came after several false fits and starts. As of 2019, same-sex marriages are recognized in California whether they're entered into within the state or elsewhere.
The Earlier Years
Governor Jerry Brown signed a bill into law prohibiting same-sex marriages in 1977, and this law ruled for 23 years until 2000. Then came Proposition 22, which was effectively a public uprising against the idea that only marriages between opposite sex spouses should be legally recognized.
San Francisco thumbed its nose at this same-sex marriage prohibition and ordered officials to begin issuing same-sex marriage licenses within city limits in February 2004. Hundreds of same-sex couples seized the opportunity, only to have the California Supreme Court legally "undo" their marriages a few months later, declaring them void. This prompted yet another uprising.
A number of lawsuits were quickly filed, demanding that the state's same-sex marriage prohibition be declared unconstitutional. Legal actions began pouring into the courts literally within 24 hours of the California Supreme Court dictate.
California Assembly Approves Same-Sex Marriages
Fast-forward to September 2005 when the California Assembly became the first legislative body in the U.S. to vote in favor of allowing same-sex couples the right to marry. But Governor Arnold Schwarzenegger vetoed the bill less than a month later. The same thing happened again in 2007, with a vote and a subsequent veto by the same governor.
The 2008 California Supreme Court Ruling
The California Supreme Court again got involved in May 2008, more or less reversing its 2004 same-sex marriage stance. This time it upheld the lower court and Proposition 22 dictate, ruling in favor of same-sex marriage. Once again, same-sex couples began marrying in droves – reportedly some 18,000 of them statewide from June 6 through November 5, 2008. California voters weren't done yet, but your marriage is still viable and legally recognized as of 2019 if you married during this five-month period.
The Passage of Proposition 8
The history of same-sex marriage in California becomes chaotic again from this point forward. California voters narrowly passed Proposition 8, the Marriage Protection Act, with a 52 percent majority in November 2008. They once again asserted that only marriages between a man and a woman should be legally recognized. Proposition 8 remained in place until the American Foundation for Equal Rights joined with some same-sex couples in the federal lawsuit, Perry v. Schwarzenegger, in May 2009. The case later became known as Perry v. Hollingsworth.
The goal of the suit was to have the U.S. Supreme Court repeal Proposition 8, but the Court opted not to hear the case and ordered that Perry v. Hollingsworth should be decided by the U.S. District Court for California. This wasn't exactly what the plaintiffs wanted, but it turned out to be good enough.
The Perry v. Hollingsworth Decision
District Court Chief Judge Vaughn R. Walker ultimately ruled in August 2010 that Proposition 8 was indeed unconstitutional. His position was that it violated equal protection and due process provisions of the Constitution. His ruling was promptly appealed, and the U.S. Ninth Circuit Court of Appeals upheld Judge Walker's ruling in February 2012 in a 2 to 1 decision.
The state of California was now officially prohibited from enforcing the terms of Proposition 8. The Supreme Court subsequently dismissed Perry v. Hollingsworth in June 2013, effectively prohibiting Proposition 8 supporters from attempting to sway the tide to their side again. This ruling allowed same-sex couples to take out marriage licenses and to legally marry in California.
Another 2013 U.S. Supreme Court Ruling
The fuss wasn't over yet, however, at least not on the national stage. The U.S. Supreme Court also got involved in June 2013 in the case of _United States v. Windso_r. This time the Court ruled that the federal government must honor same-sex unions.
Section 3 of the Defense of Marriage Act, or DOMA, had previously required that the federal government treat same-sex married couples as unmarried partners. They were therefore ineligible for the same rights and privileges of married spouses, specifically with regard to federal benefits. The Court's opinion was that this was unconstitutional as well, and DOMA was overturned.
Another Same-Sex Marriage Law in the U.S.
Then came Obergefell v. Hodges in June 2015, also decided by the U.S. Supreme Court in an undeniably historic ruling. The lawsuit was brought by same-sex couples in four states – none of which were California – after they were denied spousal rights in those state jurisdictions.
The Obergefell decision, in a 5 to 4 vote, held that the Fourteenth Amendment of the Constitution obligated all 50 states to recognize, legalize and allow same-sex unions. This was somewhat different from the 2013 DOMA ruling, which declared that the federal government itself must recognize same-sex marriages. Obergefell was a dictate imposed on individual states, requiring them to not only permit same-sex marriages within their jurisdictions, but to also legally recognize such marriages that were entered into in other states.
The Obergefell ruling added the finishing touches to the previous ruling in United States v. Windsor. When this same-sex marriage law passed, it established that same-sex couples all over the country could wed, and that they were entitled to the same marital benefits and courtesies as opposite-sex spouses, including those relating to immigration and military benefits.
The Reaction of Sovereign Nations
At least 11 tribal nations got on board with the Obergefell ruling after the 2015 decision, according to the ACLU of Northern California, although they were not legally obligated to do so. Tribal nations are considered sovereign nations that exist within the United States and therefore are not bound by federal law.
The End Result
All California's legal ups-and-downs on the issue of same-sex marriage were just a bit ahead of the curve. California had already conformed to the Obergefell federal legislation at the state level when Perry v. Hollingsworth was dismissed in 2013. Now its same-sex married couples were recognized at the federal level as well. But numerous couples had entered into registered domestic partnerships in California during all those yes-then-no rulings and the time of legislative upheaval that ended in 2013.
Marriage vs. Domestic Partnerships
California was among the first states to recognize domestic partnerships. These partnerships provide many – but not all – of the rights and responsibilities of marital unions. They continue to be recognized as of 2019, and they're still an available option if, for some reason, a couple doesn't want to actually marry.
Domestic partners are entitled to California state benefits regarding rights of inheritance and workers' compensation, and they don't have to testify against each other in California courts of law. But the federal government does not recognize domestic partnerships, so California domestic partners left out of the loop with regard to things like federal tax benefits and immigration, and a domestic partnership won't necessarily be recognized in other states. The terms of Obergefell don't apply to this type of union.
California Rules for Domestic Partnerships
Under California law, a couple must sign and file a Declaration of Domestic Partnership with the state to legally form a domestic partnership. The couple must reside together, and neither party can be married to, or be in a domestic partnership, with another partner. The proposed domestic partners can't be related by blood and must be at least 18 years old. The couple doesn't necessarily have to contain same-sex partners if one is older than age 62.
The 2013 law does not automatically convert domestic partnerships entered into before that date into marriages in California. Such couples must take additional steps to actually marry if they decide to go that route, but they're not required to dissolve the domestic partnership first before marrying.

Read More: What Is a Domestic Partner in California?
Getting Married in California
Assuming a same-sex couple does decide to marry, California law doesn't obligate religious institutions to perform same-sex weddings, but this isn't to say that none will. In fact, many do. And such couples are always free to have a civil officiant, such as a justice of the peace, perform the ceremony – they're not legally permitted to turn same-sex couples away.
The same rule applies to wedding venues. Members-based organizations and private clubs can decline to accommodate same-sex couples, and some might. But public businesses are legally prohibited from discriminating against them.
Same-Sex Divorce in California
Same-sex couples can't just decide to end their marriage relationship and part ways without court involvement, no more than they could if they were of the opposite sex. Individuals in such couples must file for divorce, but they do get one bit of a break here. Other couples must have lived in California for at least six months in order to file for divorce in the state, and they must have lived in the county where they file for at least 90 days, but this rule isn't imposed upon same-sex spouses.
A member of a same-sex couple can ask a California court to decide issues of property, financial support and child support. Courts handle domestic abuse issues and restraining orders just as they do for other couples. The legal process of divorce is substantially identical as it would be for different-sex spouses, but with one catch.
A court might not be able to decide issues of property and support if the same-sex couple married in another state and are attempting to divorce in California and they've sidestepped California's residency requirements. The court must have jurisdiction over both spouses in order to do this, and this likely won't be the case if the same-sex couple hasn't lived here for six months.
Parental Rights in California
California same-sex marriage laws recognizes both spouses or partners as a child's parent if the child was born or adopted during the marriage or during the life of a domestic partnership. Same-sex couples might want to take an additional step to solidify your positions as legal parents, however, particularly if they are in a domestic partnership.
Such couples can ask a court for an order establishing parentage or paternity if they're not the biological parent, and this is a relatively simple procedure if both members of the same-sex couple are in agreement.
Members of same-sex couples also have the option of officially adopting they're child. California requirements for adoption are relaxed somewhat for same-sex married parents in this situation and those who are in domestic partnerships. For example, a home study isn't typically required. But if a previous partner is the biological parent of the child, the adopting parent will still need that party's permission and agreement to terminate parental rights.
References
Writer Bio
Beverly Bird is a practicing paralegal who has been writing professionally on legal subjects for over 30 years. She specializes in family law and estate law and has mediated family custody issues.