What Documents Do You Need To Get A Marriage License in California?
By Beverly Bird
Updated August 09, 2019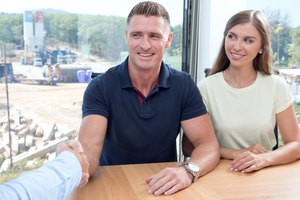 ersler/iStock/GettyImages
California makes it particularly easy for those who want to tie the knot. Just show up at any county clerk's office with the proper documentation and you can get a license and marry right there on the spot – at least if you have a witness in tow. Otherwise, you can take your license to any California county and have the ceremony performed there.
California Marriage Laws
You must be 18 years old or older to marry in California, unless you have written permission from at least one parent and an order from the court permitting you to skirt the age requirement. There's no longer a prohibition against same-sex marriages in the state; such marriages have been legal here since June 26, 2013.
California does not require blood tests for a marriage license, and there's no waiting period after you take out the marriage license. You don't have to be a resident of the state to get a marriage license in California, or even be a citizen of the U.S. But, of course, you can't already be married to each other or to anyone else, and you must pay a fee for the license, which varies by county.
Documents You Need to Get Married in California
You and your beloved must appear together in person at the county clerk's office to get a marriage license in California. Be sure to bring a translator if you don't read, write or speak English. You'll have to fill out an application form, although you can get this online in most counties and complete it in advance – just don't sign it until you get to the county clerk's office.
Your documentation must prove who you are. It can be a current driver's license, military ID, passport or other government-issued ID that includes your photograph. Some California counties also require a copy of your birth certificate.
You'll have to provide the date on which your prior marriage ended if you were married before or if you were in a registered domestic partnership, and you must cite the reason it ended, whether it was through death, divorce or annulment. Some counties might also require that you show a copy of your final judgment of divorce. Orange County requires a copy of the death certificate if your previous spouse died within the previous 90 days.
How Long to Get a Marriage License?
You'll receive your marriage license at the same time you apply for it, but it's only good for 90 days. You'll have to apply for a new license if you don't make the marriage official within that time period.
The officiant who performs your marriage ceremony must return the license to the appropriate county clerk within 10 days of the wedding.

Read More: What Happens if a Marriage License is Never Turned In?
Are Marriage Records Public in California?
Marriages licenses are a matter of public record in California, with one exception: those that record confidential marriages. A marriage is confidential under California law when the spouses lived together as spouses for a period of time before taking out the license to wed. They must apply for this special type of license and sign an affidavit that this is the case. In this case, the marriage license is considered a confidential record and it can be viewed only by the spouses or by order of the court. Otherwise, no one will ever know the date the license was taken out.
As for all other marriage licenses, anyone can stop by the county clerk's office and request and receive an informational copy.
Tips
You don't necessarily have to get married in the California county where you took out your marriage license, but you do have to make sure that whoever performs the ceremony files the license in the county where it originated.
References
Writer Bio
Beverly Bird is a practicing paralegal who has been writing professionally on legal subjects for over 30 years. She specializes in family law and estate law and has mediated family custody issues.