What Does a Family Law Attorney Do?
By Leslie Bloom
Updated August 23, 2018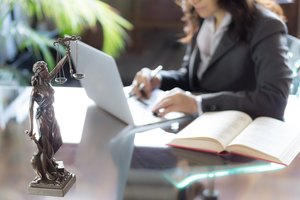 belenox/iStock/GettyImages
If you're looking for a lawyer to handle matters related to your children or marital relationship, you don't want just any lawyer. You want an attorney who specializes in family law. Family law attorneys don't necessarily specialize in family law while they are in law school. They often get a general law degree and enter the field of family law after passing their licensing exam. Attorneys can become versed in family law by taking continuing education classes and working at a family law firm.
Tips
A family law attorney specifically handles civil legal matters that deal with families. These civil legal matters include prenuptial agreements, adoption, divorce, and child custody and support. A family law attorney may also handle other areas of law, such as estate planning.
What Does a Family Lawyer Cover?
Family lawyers are experts in a variety of practice areas. A family lawyer covers every legal matter from marriage through divorce, and can also cover other familial issues such as adoption, domestic violence and child advocacy. Here are some of the more common areas a family lawyer covers.
Prenuptial and post-nuptial agreements. These agreements are made either before (prenuptial) or after (post-nuptial) a wedding takes place. Both agreements put in writing how a couple's assets and other issues are handled in case of separation or divorce.

Divorce. Family lawyers work out the details of a divorce. Each partner is required to have her own attorney to help settle issues related to property, child support and spousal support.

Adoption. Family law attorneys help guide adoptive parents through the complex process of adoption and help finalize the adoption.

Juvenile delinquency. Underage kids who get in trouble with the law are likely to be brought to local family court. Since juvenile cases are tried differently than adult cases, family law attorneys are often in the best position to provide representation.

State law governs family matters, meaning that each state has different protocols and procedures for any of the areas a family lawyer covers. A person should hire a family law attorney in the state where she lives to ensure that proper law is being followed.
What Is the Job Description of a Family Lawyer?
The job description of a family lawyer varies, depending on where the attorney works. However, some components of the job description of a family lawyer are constant.
Education: A practicing family law attorney must graduate from law school and hold a Juris Doctorate (JD). She must also be licensed by the state bar association of the state in which she practices. Some jobs may require the attorney to hold a certification in family law if the state bar has one.
Requirements: The experience required to be a family lawyer depends on the position. An entry-level family law attorney may need to have completed an internship in family law, while an associate-level attorney will need at least four years of experience. Most employers also want a family law attorney who is a good communicator, highly organized and good with legal research and writing. Family law attorneys should also be skilled at negotiating.
Responsibilities: The responsibilities of a family law attorney again vary based on the position. In most cases, responsibilities can include executing strategy, managing cases, communicating with clients, compiling case summaries, preparing court documents, monitoring calendars and preparing for trial.
How Much Does a Family Law Attorney Cost?
Family law attorneys work in a variety of settings. These include private law offices, nonprofit legal services organizations and local government. How much a family law attorney charges depends on where he works, what state he's in and how much experience he has. How much a family law attorney costs also depends on how much time is spent on a case, how complex the case is and other costs involved (such as court filing fees).
Family lawyers may charge a flat fee or an hourly rate, depending on what they are hired to do. For example, a lawyer may charge a flat rate of $2,500 to put together a standard prenuptial agreement. Lawyers working on more complicated matters are more likely to charge an hourly rate, which can range from $100 to $400 and up.
A family law attorney may also charge a retainer, a lump sum paid upfront to work on a case. This sum is applied to the overall cost of a case.
References
Writer Bio
Leslie is a Los Angeles native with more than 20 years of experience writing for a variety of online and print publications. She has degrees in both journalism and law.