What Court Handles Divorce?
By Teo Spengler
Updated August 23, 2018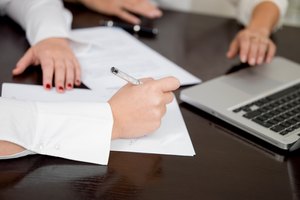 thomaguery/iStock/GettyImages
If you had a choice, you'd probably take your divorce to small claims court, given its low fees and fast case timetable. But of course you don't. Courts have very specific jurisdiction, and they are limited to hearing cases within it. That means that even if it wanted to, the U.S. Supreme Court, the highest court in the land, couldn't hear your divorce case. So which court can?
Tips
Each state decides the types of cases its various courts can hear. In most states, the superior or circuit courts handle divorces.
Divorce, Separation and Annulment
If you've decided to get a divorce, legal separation or annulment, you need to know where to file your legal papers. Each state has many courts that make up its judicial system and they are not mirror images of the court systems in other states. Then there are federal courts. Which is the right one for a divorce case?
Don't go to federal court. State courts have authority to hear divorce proceedings. In most states, you'll need to file in the family court division of the state superior or circuit court. Some states don't have specific divisions for family law, so you file in the primary civil division of the superior or circuit court.
Examples of Divorce Courts
California, for example, has superior courts, not circuit courts, and there is at least one in each state county. In order to file for divorce in California, at least one spouse must have lived in the state for the prior six months and also have lived in the county in which the divorce is filed for three months. So if you lived in San Francisco with your spouse for a year before deciding to divorce, you would file a divorce petition in the Superior Court of California, County of San Francisco.
On the other hand, Virginia has circuit courts, one in every city and county of Virginia. These courts have the broadest powers in the state, handing all civil cases claiming damages of more than $25,000. Circuit courts also handle serious criminal cases and family matters, including divorce. To file for divorce, one of the divorcing spouses must have lived in the state for six months, and you usually file in the county where one spouse lives or where the two last lived together as a couple.
In Georgia, divorces are heard exclusively in the superior court. The 49 superior court circuits in the state each serve one or more counties. In order to start the divorce process, you must file a complaint in the Superior court where you or your spouse lives. For a no-fault divorce in Georgia, one of the two spouses must have resided in Georgia for six months immediately prior to and at the time that you file for a divorce.
References
Writer Bio
From Alaska to California, from France's Basque Country to Mexico's Pacific Coast, Teo Spengler has dug the soil, planted seeds and helped trees, flowers and veggies thrive. World traveler, professional writer and consummate gardener, Spengler earned a BA from U.C. Santa Cruz, a law degree from Berkeley's Boalt Hall, and an MA and MFA from San Francisco State. She currently divides her life between San Francisco and southwestern France.