Documents Used in Construction Projects
By Laura Bramble
Updated April 29, 2019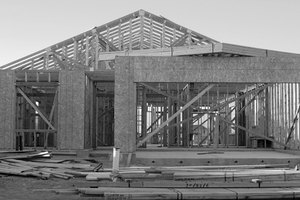 construction image by Sandra Henderson from Fotolia.com
The documents used in construction projects can vary from project to project and according to the size of the project. The paperwork required to build a house is not going to be the same as for a large commercial project. However, there are documents that are common to every legal construction project, no matter what kind.
Contractor and Subcontractor Contracts
These are the agreements between the buyer and the builder, the builder and his subcontractors and the builder and the lender. Contracts usually contain addenda, or add on pages, that spell out specifications and stipulations unique to the project. Any change orders, purchase orders and additional addenda that modify any original terms of the contract become part of the contract once they are signed by both parties.
Municipal Building Permits
Municipal building permits, as well as water, sewer, power and utility permits must be kept and maintained in good order. Any municipal inspector has the right to request them from the builder at any times.
Plans, Including Specs and Drawings
Every building project, regardless of size, involves a set of blueprints and plans. Most jobs involve several different sets for different aspects of the job. Framing diagrams, plumbing diagrams, electrical diagrams, foundation diagrams and roofing diagrams are all a normal part of the process. Any specifications, or specs, that vary from the plan or from the norm are always spelled out in writing and in appropriately revised diagrams. Older obsolete copies of the plans are stored, in case of dispute.
Bids and Estimates
Any documents from subcontractors and suppliers that designated a group of goods and services for a price must be kept. This will allow the supervisor to go back and reconcile what was charged with what was quoted and allows for budgeting on the project.
Scheduling and Construction Diaries
These spell out what is supposed to happen, what has happened and when. When working with subcontractors who fit a builder's job into a tight schedule, these help make sure that everything is placed correctly in the timetable without negatively affecting the rest of the project calendar.
Code Inspection Documents
Any written correspondence or citations from inspectors and the municipality need to be kept to ensure and prove that the project is up to code and that any corrections required by the municipality have been made. These documents from part of your construction site control documents.
Financial Logs and Records
Builders need to keep proof of how, when and who they have paid money to and to log payments made to them. This also includes payroll and payroll taxes in addition to accounts receivable and payable.