How to Bury without Life Insurance
By Jane Smith
Updated August 23, 2018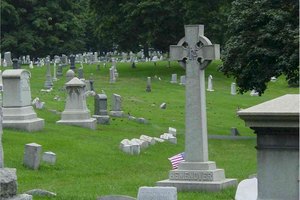 There are many things you can do to ensure a decent burial for a loved one who dies without burial insurance. The hardest part, though, is convincing other grieving family members that what you are doing is the best that can be done with whatever means are available.
Pool resources. Ask family and friends to contribute whatever they can toward funeral expenses. If anyone in the family can provide a service that would otherwise add to the cost of the funeral, let that be his contribution. For example, someone who plays the organ or piano could provide the music. Another family member could buy the burial outfit, if the deceased does not have anything appropriate. A family member in construction could provide the use of his backhoe services for opening and closing the grave. Another could pay for the clergy member's fee.
Use available credit. Most funeral directors will take major credit cards.
Talk to your local church and your city or township employees about the availability of inexpensive burial sites. Some small communities provide burial plots for a very small fee. Some churches do not charge at all for the plot, only for opening and closing the grave.
Contact any community organizations that counted the deceased or his family as members. Ask if they provide any burial assistance.
Check with banks and financial institutions the deceased used. If the deceased suffered an accidental death, there may be some funds from the "free" accidental death and dismemberment policies banks offer their customers.
Shop around. Call as many funeral directors as you can and get them to give you itemized lists of all the services they will provide for whatever amount they intend to charge. Negotiate to eliminate services you feel are not necessary.
Get consensus. Hold a family meeting, laying out the available options. Make sure everyone's concerns are aired, to avoid hurt feelings and recriminations.
Be sure to purchase burial insurance for every family member as soon as possible after the funeral, to avoid a repeat of this situation.
Warnings
Do not wait until there is a death in the family to buy burial insurance.
Resources
Writer Bio
Jane Smith has provided educational support, served people with multiple challenges, managed up to nine employees and 86 independent contractors at a time, rescued animals, designed and repaired household items and completed a three-year metalworking apprenticeship. Smith's book, "Giving Him the Blues," was published in 2008. Smith received a Bachelor of Science in education from Kent State University in 1995.