Do Babies Need Passports?
By Teo Spengler
Updated July 28, 2017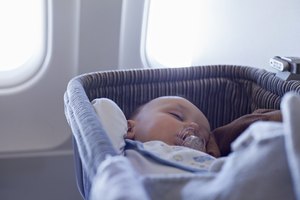 Dangubic/iStock/GettyImages
Baby Baby It's a Wild World
No law obligates your baby to get a passport, and she can live her entire life without one if she doesn't leave the boundaries of the United States. But there's a wild, wonderful world out there, and the odds are, you want your baby to see some of it before she's old enough to make the decision for herself. If you plan to take your little one into foreign realms where you need a passport, she'll require one too.
Getting Passports for Children
Children of any age require passports if they are going to a country where their parents require passports. And don't think that, just because your baby is small, the process will be easier or cheaper. Like your teenagers, baby will need a DS-11 application and proof of U.S. citizenship—usually a birth certificate.
You also have to show proof of your relationship to the baby, and the U.S. birth certificate with your name as mom will do the trick. Take a photographic, government-issued ID, like a driver's license or U.S. passport, valid or expired, and a photocopy of each document so the passport agency can compare them and return the original.
You're required to submit proof that the other parent is aware of, and agrees to, your getting a passport for the baby. Ideally, the other parent can accompany you to the office. If not, he can go before a notary to sign Form DS-3053, "Statement of Consent," and submit a photocopy of the identification he provided to the notary.
A photo of the baby is also required, but the precise rules applicable to other passport photos are relaxed for young children. For example, the baby is not required to look directly at the camera or have her eyes completely open. You can lay baby on her back on white fabric and support her head with your hand. Alternatively, cover a car seat with white fabric and snap a shot of baby in it.
Passport Fees
The passport for an infant costs the same as a passport for any other child. The passport book will cost $80 plus an "execution fee" of $25. If you want a passport card—which will get baby into Mexico and Canada if you don't fly—you'll pay $15 plus the execution fee of $25. If you order both, you'll pay the $95 total, but only one execution fee.
References
Writer Bio
From Alaska to California, from France's Basque Country to Mexico's Pacific Coast, Teo Spengler has dug the soil, planted seeds and helped trees, flowers and veggies thrive. World traveler, professional writer and consummate gardener, Spengler earned a BA from U.C. Santa Cruz, a law degree from Berkeley's Boalt Hall, and an MA and MFA from San Francisco State. She currently divides her life between San Francisco and southwestern France.