Cost of a Child's Passport
By Teo Spengler
Updated July 28, 2017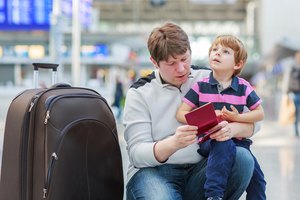 romrodinka/iStock/GettyImages
Giving the Gift of Foreign Lands
If you love to travel, you probably want to share the excitement of exploring foreign lands with your children. Kids are curious and open, which makes them excellent travel buddies. But in order to get a child out of the United States, you'll need to jump through the hoops necessary to acquire a passport for your young traveler.
It may seem unfair, but small kids do not get passports at a small price. Passport fees for each member of your clan, from newborn to young adult, will be the same. Yes, that's fees plural, because you'll pay an application fee and an execution fee for each. How much the passport costs depends on some choices you make.
Passport Book or Passport Card
In yesteryear, if you wanted a passport, you didn't have a choice of form. It was a passport book or nothing. These days, you can get the book, the card or both.
The passport book is the typical passport with a dark blue cover, 5-by-3.5 inches closed. It makes sense to call it a book because, when you open the cover, you'll find a number of pages, including one with a photo and the bearer's information on it. The passport book will get your child into any country that requires a passport. It is valid for international travel by air, sea or land.
The passport card is about the size and shape of a driver's license with a photo of the card holder. Although the card is more convenient to carry, your child cannot use the passport card for international air travel. He can use it only for land or sea travel to Mexico, Canada, the Caribbean and Bermuda.
Validity of a Child's Passport
Whether you get your child a passport book or a passport card, the document will be valid for five years from the date of issue. In case you forget that date, it is printed on the card and also on the first page of the book.
Your passport and that of every bearer 16 years or older is valid for 10 years. Another difference between an adult passport and a child's passport is that you cannot renew a child's passport. When it expires, you must apply for a new one.
Cost of a Child's Passport
You will pay less for your child's passport than for your own, but it still isn't inexpensive. If you decide to get your youngster a passport book, it will cost an $80 application fee and a $25 execution fee. For a passport card, you will pay only a $15 application fee along with the $25 execution fee. If you get both, you'll pay $95 in application fees as well as the $25 execution fee.
References
Writer Bio
From Alaska to California, from France's Basque Country to Mexico's Pacific Coast, Teo Spengler has dug the soil, planted seeds and helped trees, flowers and veggies thrive. World traveler, professional writer and consummate gardener, Spengler earned a BA from U.C. Santa Cruz, a law degree from Berkeley's Boalt Hall, and an MA and MFA from San Francisco State. She currently divides her life between San Francisco and southwestern France.