What Is a TSA Quart Bag
By Jodi "Jato" Thornton
Updated August 24, 2017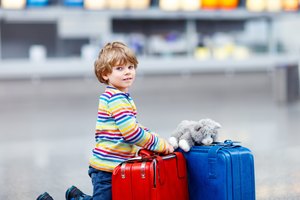 romrodinka/iStock/GettyImages
Kids, Quart Bags and TSA Liquids Rules
When traveling with kids on a plane, it might seem overwhelming to remember to pack everything you'll need on vacation, let alone fit it all in to meet the Transportation Security Administration's regulations. But fear not, you really can do it, even if you're flying with only carry-on luggage. Here's what you need to know.
The 4-1-1 on the 3-1-1 Rule
The TSA limits the amount of liquid you can bring onto the plane in your carry-on bag, and it seems like when you travel with children, you bring a lot of liquids. The TSA's 3-1-1 liquids rule applies to anything you can pour out, spray out or squeeze out of a container. Here's how the numbers break down:
3: This stands for 3.4-ounce containers (100 ml). Every liquid you bring must be in a container this size or smaller. Bringing a larger container with only a couple ounces of liquid in it is not allowed, and TSA workers will confiscate such items.
1: All those little containers have to fit in a quart-sized bag with the top closed. No, that's not a typo: 1 quart, basically 7 inches by 7 inches when laid flat. The bag must be clear plastic, so just stow away your kid's cute little cartoon-character sundry bag until you pass through security, or use it to hold nonliquid items. Everything squeezable, pourable or sprayable must fit in the quart-sized bag, so peanut butter and tube yogurt might have to ride in the same bag as shampoo and diaper ointment.
1: One is how many liquid-containing bags each paying passenger can bring in her carry-on. Each one of your children riding as a ticketed passenger gets to take a clear plastic quart bag filled with liquids, providing they're taking their own carry-ons.
The Exceptions to the Rule
Fortunately, the 3-1-1 rule has exceptions that make flying with kids much easier:
Nourishment for children: If you have a toddler or infant, you're allowed to carry reasonable amounts of juice, breast milk or formula in quantities greater than 3.4 ounces. You don't have to put them in a plastic bag, but you will need to take them out for screening at the security checkpoint. While there are no hard-and-fast rules as to what a reasonable amount is, you're less likely to be asked to toss it only if there's just enough to last you once you're settled in your hotel, accounting for flight delays, traffic and other time considerations. Any liquid you bring on board for nourishing your child might have to pass through X-ray or be tested by other means for the presence of explosives.
Tips
It's fine to carry breast milk in quantities greater than 3.4 ounces, and you don't have to try to fit it into a quart bag. Your child doesn't even have to be along for the airplane ride. If you've been pumping during your business trip or romantic getaway, the quantity will be reasonable.
Medication: Go ahead and bring along the whole bottle of liquid acetaminophen, allergy liquid or whatever other liquid medications your children might need. Keep them handy, as you'll need to remove them and any other medications from your bag for security screening.
Sanity-Saving Strategies for 3-1-1 Packing
Let's face it: One travel-sized toothpaste won't last a family for more than a few days, especially if you have toddlers with an "I'll do it myself!" attitude and an unrelenting chokehold on the tube. The best way to deal with 3-1-1 packing depends on your family's preferences, travel style and budget.
Strategy 1: Buy It There
If your family uses widely available brands or is flexible with choices, you can save room in your carry-on by planning to stop by a store when you reach your destination. Make a list of items and tuck it in your wallet before you leave home so you don't overlook anything in the excitement of reaching your destination.
Strategy 2: Divide and Conquer
When traveling with children who will be toting their own carry-ons, make the most of those quart-sized bags by combining like products for maximum room. For example, pack all the tube yogurt and squeezable peanut butter in one quart bag and all the diaper ointments, sunscreens and sundries in another. Put one bag in each child's carry-on.
Strategy 3: Substitute Dry Products
Practically anything you need, from makeup to insect repellent, comes in dry forms like bars and sticks. Swap out toothpaste for tooth powder and liquid detergent for laundry sheets that dissolve when they get wet.
Strategy 4: Check a Bag
Some airlines like JetBlue Airways, Southwest Airlines and British Airways don't charge for checking a bag or two. While it might cost you more time to check bags and claim them at the baggage carousel, sometimes it's worth it to make sure you have everything you need. Some liquids are limited even in your bags, though: Alcoholic beverages containing between 24 and 70 percent alcohol are limited to 5 liters in your checked baggage, and anything more than 140 proof isn't allowed at all.
References
Writer Bio
Indulging her passion for vacation vagary through the written word on a full-time basis since 2010, travel funster Jodi Thornton-O'Connell guides readers to the unexpected, quirky, and awe-inspiring.