What Are the Benefits of TSA PreCheck?
By Kathryn Walsh
Updated August 24, 2017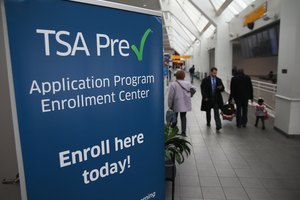 John Moore/Getty Images News/GettyImages
Skip the Line With TSA's Pre-Approval Program
If you've ever been stuck in a seemingly endless security line, watching enviously as fellow travelers march past you and straight up to the front of the line, you've already seen the TSA's PreCheck program in action. Joining the PreCheck (often written as Pre✓) program is completely optional. It's open to you if you want to reap the benefits, but enrolling does cost money and requires a special trip to a screening location, so it's not for everyone.
What Does Enrolling in PreCheck Get Me?
Participants of this program get to bypass a lot of the worst parts of air travel. If you're enrolled in PreCheck and flying out of a participating airport—most major American airports participate—your boarding pass will be printed with a PreCheck indicator. When you arrive at security, you'll see signs directing PreCheck members to a special security line. During busy times, this line is usually much shorter than the regular line.
Once you get past the ID checkpoint, you'll be immune to some of the TSA's screening requirements. You can keep your shoes, light jacket and belt on, and you don't have to pull your liquids, gels and aerosols or even your laptop out of your bag. Simply put your bags on the conveyor belt and proceed through the body scanner.
Note that enrolling in the program doesn't make you immune to the TSA's rules about packing liquids, gels and aerosols in carry-on bags. You're still subject to the 3-1-1 rule, which limits you to no more than 3.4-ounce containers of these substances, packed into a single 1-quart zip bag. PreCheck only allows you to leave your liquids in your carry-on, instead of having to take them out for separate scanning.
Members of the PreCheck program have to be screened and pre-approved, so it's not something you can elect to join at the last minute.
Am I Eligible?
Probably! Citizens, nationals and lawful permanent residents of the United States are all allowed to enroll in the program. However, the program is not open to people who have previously violated any transportation security regulations, have been convicted of certain felonies or who are currently the subject of outstanding warrants.
What About My Kids?
Travelers 13 and older must be enrolled in the program in order to go through the PreCheck security line. Kids 12 and younger can accompany a parent who is enrolled in the program in the expedited line. There's no age restriction for joining. If you have teens, they can enroll in PreCheck, too.
How Do I Enroll?
The first step is to fill out a basic application online at the TSA's website. Then, schedule an appointment at the closest enrollment center. In some cities, the closest PreCheck enrollment center is at the airport; in other places, it's at an independent identity-services office.
At your appointment, you'll have to show proof of your identity and citizenship status, which you can do by providing a valid passport or a driver's license and your birth certificate. The application system will show you a list of valid documents and help you figure out what you need to bring with you. The appointment takes just 10 minutes. You'll have to show your ID, undergo a background check and have your fingerprints taken. At the appointment, you'll also have to pay the enrollment fee. It's a little less than $100 and enrolls you in the program for a period of five years.
You should hear about whether your application has been accepted within a few days. If you're accepted, you'll be given a Known Traveler Number (KTN). Whenever you book a flight, enter that number in the box that asks for your KTN. That's how the airline will know that you're a PreCheck member.
What Else Should I Know?
It's worth checking to make sure that the airports you use most frequently use the PreCheck program before joining. All major American airlines use the program. If you frequently travel internationally, consider applying for the Global Entry program, run by the U.S. Customs and Border Protection agency. It includes PreCheck, and for only $15 more for a five-year period also gets you expedited processing at customs when you arrive back in the U.S. from an international trip. The CBP also has programs designed for people who frequently travel between the U.S. and Canada or Mexico.
References
Writer Bio
Cooking, travel and parenting are three of Kathryn Walsh's passions. She makes chicken nuggets during days nannying, whips up vegetarian feasts at night and road trips on weekends. Her work has appeared to The Syracuse Post-Standard and insider magazine. Walsh received a master's degree in journalism from Syracuse University.