How to Print Passport Photos on 4x6 Paper
By Brenna Swanston
Updated August 24, 2017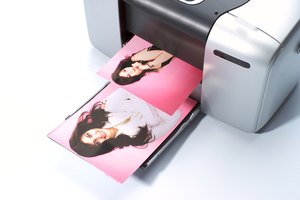 nixite/iStock/GettyImages
Do-it-yourself Passport Photos
Passports can be a pain. The process of renewing or obtaining a new passport comes with a laundry list of documents, forms and payments you'll need to hand over—including a color passport photo.
It might be easy enough to swing by a pharmacy and shell out $12 for a passport photo, but you're already sinking time and money into the process, so you can save yourself a trip to the store and a few dollars. Take and print your own passport photos—it'll make your life easier, and it'll ensure you always have the photo file on-hand should you need to print more in the future.
Taking Your Photo
United States passport photos must adhere to the following list of requirements, set forth by the State Department:
Your head is facing the camera with your face in full view.

You're wearing the type of clothing you typically wear on a daily basis.
The photo is taken within six months of submitting your passport application.
The backdrop is plain white or off-white.
You are not wearing glasses.
Your head is bare, i.e. you have no hat or head covering. (If you wear a head covering for religious purposes, you have to submit with your application a signed statement saying the covering is recognized religious attire that you usually wear in public.)
You are not wearing headphones or hands-free wireless devices.
Your facial expression is neutral—no exaggerated smiles.
The photo must be sharp without visible pixels or printer dots, and you're not allowed to use any retouching on the head, face or neck. Make sure the photo isn't over- or underexposed, and your face is at the center of the shot without being too close to or far away from the camera.
Apps like Passport Booth (which is free) help you take and print an appropriate passport photo. Some websites, such as ePassportPhoto.com, offer similar services.
Taking a Baby's Photo
If you're facing the task of taking an infant's passport photo, those requirements might seem daunting, especially since no one else is permitted to be in the photo. But there are ways to make it a little easier:
Place your baby on her back on a white blanket or sheet for the background. Make sure the head is supported without having to put your hand in the photo.

Cover a car seat with a plain white sheet and place your baby in the car seat for the photo.
The State Department prefers children to be looking at the camera for passport photos, but this isn't required, so don't sweat it too much.
Printing Your Photo
Your passport photo must be printed in color on matte or glossy photo-quality paper. The photo itself has to be 2-by-2 inches, but you'll most often be printing it on 4-by-6 inch paper.
If you use Passport Booth, the app will provide you with a 4-by-6 image with two 2-by-2 photos to print at home or at a nearby printer for cheap. You could also opt to have the photos mailed to you for $5.96.
ePassportPhoto.com also allows you to print two photos on 4-by-6 paper at home for free, or you could order them for delivery for $7.99. You can also order a sheet of eight photos for $11.99.