What is the TSA's Liquid Rule?
By Kristine Xu
Updated August 24, 2017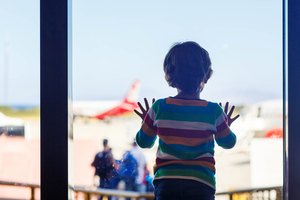 romrodinka/iStock/GettyImages
Everything You Need to Know About the TSA Liquids Rule
From allocating enough time to get to the airport to making sure all your essentials are packed and ready to go, there's enough to think about when traveling without having to worry about whether the expensive perfume or bottle of baby formula you packed will make it through checkpoint security at the airport. Avoid one more headache by prepping the liquids for you and your family ahead of time. Here's everything you need to know about the TSA liquids rule:
What Is the Rule?
The TSA liquids rule requires that all liquids, aerosols, gels, creams and pastes are set aside in a quart-sized bag for closer inspection. These containers can hold no more than 3.4 ounces or 100 milliliters—a typical travel-size—and should be clearly separated from the rest of your carry-on baggage when you go through the TSA security checkpoint.
3-1-1 Rule
An easy way to remember the TSA liquids rule is thinking of the numbers "3-1-1." Practicing the 3-1-1 rule will make sure you aren't at risk of losing your packed liquids at checkpoint security at the airport. No more than three 3.4 ounces per container of liquid per container should all fit into 1-quart-sized bag. Passengers are allowed 1-quart-sized bag per person.
What If My Liquids Are Still Over 3.4 Ounces?
The only way that flyers can carry liquids more than 3.4 ounces is if they are kept in their checked luggage, a duty-free purchase, packed in a transparent and tamper-free bag, or purchased within 48 hours with the original receipt. For a hassle-free experience through the security line, make sure to only pack liquids over 3.4 ounces that are absolutely necessary. The TSA may still seize your liquids even when following these rules as a security precaution.
Exceptions to the Rule
If you're traveling with small children or have a health condition, don't worry! The 3-1-1 rule doesn't apply to infant and small child nourishment or medications. If you are traveling with an infant or child, items like baby formula, breast milk or juice are allowed if the items are properly prepared beforehand. Make sure the larger liquids are separated clearly from other liquids in your carry-on, declared at the checkpoint security and presented for additional inspection if necessary.
Tips and Tricks
While this is easier said than done, there are some extra tips that you can implement on your next flight to make sure none of your liquids are seized by the TSA. By taking small steps like packing makeup remover pads instead of liquid makeup remover or packing solid shampoos and conditioners, the space in your quart-sized bag can be saved for more important liquids. Prioritizing which liquids to bring and making sure to pack the appropriate size will make it a lot simpler to pack your toiletries on your next voyage.