Do You Need a Passport to Go to St. Thomas?
By Michael Baker
Updated August 24, 2017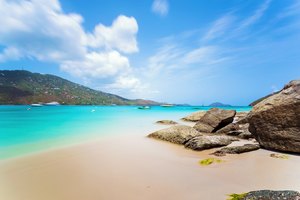 poladamonte/iStock/GettyImages
Documentation to Make Your St. Thomas Vacation Hassle Free
Sunny St. Thomas in the U.S. Virgin Islands offers the same white sand beaches, turquoise waters and family fun you can find across much of the Caribbean. But for Americans in particular, it offers one thing many of its neighbors do not: easy access. Even so, you will need to ensure proper documentation for your entire family to avoid any obstacles.
Do You Need Passports?
As you might guess by its name, the U.S. Virgin Islands is a territory of the United States, and natives of the islands have been U.S. citizens since 1927. As such, St. Thomas is one of the few Caribbean hot spots Americans can visit without a passport. Noncitizens need the same documentation they need to travel to anywhere else in the United States. That means an Alien Registration Card, commonly known as a green card, for noncitizen permanent residents and a passport and visas for residents of any country from which the U.S. requires them. Check with U.S. Customs and Border Protections if you are not sure of the status of anyone in your family's traveling party.
What You Will Need
Even American citizens need proof of citizenship to visit St. Thomas—including children. For adults, state-issued photo identifications such as driver's licenses will suffice. If your children do not have photo IDs, bring certified copies of their birth certificates. Passports also meet this requirement, and they are the easiest form of identification to use for the members of your family that already have them. If not, fees to obtain passports could add a significant unnecessary cost to your travel plans. Even so, U.S. passports are valid for five years for children and 10 years for adults, so it might not be a bad idea to get that step out of the way if St. Thomas is just the beginning of international traveling over the next several years.
Special Situations
If you share custody of your child, bring a consent letter from the child's other parent or guardian in addition to the other necessary documentation. The same applies if your kids are bringing along friends or other minors that are not members of your immediate family. You might never have to show the consent letters during your trip, but having them will make things much easier if anyone questions you.
If You Want to Island Hop
The Virgin Islands chain is divided into two parts: one belonging to the U.S. and the other to the United Kingdom. If your family plans on venturing beyond St. Thomas, entry requirements remain the same if you visit St. John, St. Croix or anywhere else in the U.S. Virgin Islands. But if your itinerary includes Tortola, Virgin Gorda or any of the other British Virgin Islands, each family member will need a passport, just as if you were visiting the U.K. Much of the rest of the Caribbean consists of British, French and Dutch territories, as well as independent nations, all of which require U.S. citizens to have passports. The exception is Puerto Rico which, like the U.S. Virgin Islands, is a U.S. territory.
References
Writer Bio
Michael Baker has worked as a full-time journalist since 2002 and currently serves as editor for several travel-industry trade publications in New York. He previously was a business reporter for "The Press of Atlantic City" in New Jersey and "The [Brazoria County] Facts" in Freeport, Texas. Baker holds a Master of Science in journalism from Quinnipiac University in Hamden, Conn.