Do Children Need an ID to Fly?
By Fred Decker
Updated August 24, 2017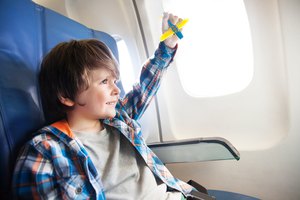 SerrNovik/iStock/GettyImages
Make Flying Easy With These 5 Tips
Whoever said "getting there is half the fun" wasn't thinking of modern air travel, and certainly not air travel with children. Packing enough snacks, toys and distractions for the kids is a full-time job all on its own, without having to worry about what ID to bring. Surprisingly, the ID requirements for flying with kids—domestically at least—are pretty minimal.
1. If You're Flying Domestically, Call the Airline
The Transportation Security Administration complicates a lot of things about flying, but bringing your kids isn't one of them. As far as the TSA is concerned, kids under 18 don't need to bring their own ID as long as they're accompanied by an adult. Unfortunately, that doesn't mean you're in the clear. Each individual airline has its own policies about what identification minors need, especially when they reach the upper limit for a child fare or are a minor. For example, Southwest requires government-issued ID as proof of age to take advantage of a child fare. Children traveling on United, on the other hand, aren't required to show ID at check-in.
2. It's Different for Kids Flying Alone
Sometimes you might need to send one or more kids on the plane without an adult, and that's a whole different process. Each airline has a whole set of policies for children traveling alone, designed to keep your kids safe and limit the airline's liability. Southwest won't allow unaccompanied minors on international flights, for example, but—on the up side—don't consider your child "unaccompanied" if they're with another kid who's 12 years old or older. United considers any child 15 or under to be an unaccompanied minor, even if they have a 16- or 17-year old as their travel partner. Again, there isn't an official ID requirement from the TSA, but you absolutely need to know the airline's policies. If you use different airlines for different parts of the trip, check them all.
3. Going to No-Visa Destinations is Easier
If you're going to leave the continental United States, whether that's your final destination or a stop along the way, crossing a border ups the ante for ID requirements. As a rule, it isn't as big a headache if you're going to a destination such as Canada or the European Union where American citizens won't need a visa for short periods of travel. If you take your kids to the Canadian National Exhibition in Toronto (210 Princes' Blvd., Toronto, Canada), for example, they will need a passport to enter by air; if you drive across the border, they'll only need a birth certificate. Entering by air means you'll also need to apply in advance for an Electronic Travel Authorization, or eTA, for each traveler including the kids. You can do that online in a couple of minutes, and they're good for five years. The U.S. State Department's website lists the entry requirements for Canada and other no-visa countries, so it's relatively easy to do the research before you go.
4. Really, Really Research Other Countries' Requirements
If you're doing one of those trip-of-a-lifetime vacations with the kids, plan to spend a lot of time on research. You'll need to hit the State Department's website for travel requirements for each country you visit and each country you'll pass through along the way, and click through to the respective countries' websites to double-check their requirements in case they've recently changed. That goes for every airline you'll use as well, as well as any trains, ferries, bus lines or anything else that takes you across an international border. When in doubt, follow the old rule: Better to have it and not need it, than need it and not have it.
5. If You're Traveling With Kids Who Aren't Yours, Be Prepared
There's one more wrinkle that can affect travel ID requirements, both for you and for the youngsters traveling with you. If you don't have sole custody of your children, or if you're bringing your kid's inseparable best friend along for the trip, you'll usually need to jump through a few more hoops. If you're traveling out of state or especially out of the country, you'll want to bring ID, such as a birth certificate for each child and a consent letter signed by a parent or legal guardian—or in cases where you're sharing custody, the other parent—that identifies the child and also provides contact information for the parent. You can get a sample from the State Department's website, or write your own with the same information on it.
References
Writer Bio
Fred Decker is a trained chef and certified food-safety trainer. Decker wrote for the Saint John, New Brunswick Telegraph-Journal, and has been published in Canada's Hospitality and Foodservice magazine. He's held positions selling computers, insurance and mutual funds, and was educated at Memorial University of Newfoundland and the Northern Alberta Institute of Technology.