At What Age Do You Need a Passport?
By Kathryn Walsh
Updated August 24, 2017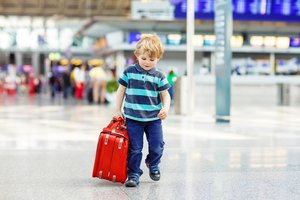 romrodinka/iStock/GettyImages
Navigating the Passport Rules for You and Your Family
Fit the car seat into the backseat, sign the birth certificate—and schedule the passport appointment. That last to-do item is probably not on the minds of most new parents. But if you have any international travel planned, getting your child a passport is a necessity. All U.S. citizens are subject to the same passport rules, so even a newborn has to have one to travel outside the country.
Who Needs a Passport?
Anyone who wants to leave American territory and enter another country must have a valid passport. That includes children.
Should I Get One? Should My Child?
If you're not planning to leave the country, neither you nor your child really needs a passport for any reason. As long as you have a birth certificate and driver's license or other government-issued ID, you should have no problem boarding a domestic flight, registering to vote and taking care of other business. Your child doesn't technically need a passport, either. Airlines don't require kids under 16 to show ID for domestic flights, and a birth certificate is suitable documentation for things like getting enrolled in school.
Keep in mind, though, that getting a passport at the last minute (as in less than two weeks) is expensive and requires traveling to the nearest passport agency, which may be several hours away. If you apply in the usual way, standard processing time can take up to eight weeks. Therefore, if there's any chance at all that you'll need to leave the country, get a passport.
Tips
Planning a cruise? You may need a passport if the itinerary includes any stops outside U.S. territory.
How Long Does a Passport Last?
Your passport must be renewed periodically. If it's issued to a child who is 15 or younger, it expires in five years. If it's issued to someone 16 or older, it expires in 10 years. Look at the photo page at the front of the passport to find the issuing and expiration dates. If you have a passport card, it will also have this information.
It may be necessary to renew your passport or your child's passport well in advance of the expiration date, if you have international travel planned. Some countries require visitors to have six months validity left on their passports when entering. For example, if you plan to visit one of those countries in March, your passport must be valid until at least September. If it's due to expire sooner than six months, you won't be allowed to take your trip. Check the rules of any country you plan to visit in the next year or two.
How Do We Renew Our Passports?
Kids 15 and under have to renew their passports following the same process that first-time applicants use. You'll have to fill out Form DS-11 and get passport photos taken of your child. Then you and the child's other parent must take the child to apply in person to a passport acceptance facility, such as a post office or town clerk's office, and present proof of the child's identity, citizenship and relationship to you. Pay the fees (for kids, they range from $40 to over $100) and you're good to go.
Single parents can do this process alone, provided they can show proof of being the child's sole guardian. If the child has two guardians but one can't be present, the absent parent should fill out a form giving consent.
Adults sometimes have to apply in person using Form DS-11, if, for instance, it's been more than 15 years since they were issued their last passports or if they've lost their passports. But if you have your undamaged passport in your possession and you meet a few other criteria, you can renew your passport by mail using Form DS-82. For adults, fees start at around $55 and go up to more than $200, depending on the type of passport requested (book vs. card) and whether expedited service is needed.
References
Writer Bio
Cooking, travel and parenting are three of Kathryn Walsh's passions. She makes chicken nuggets during days nannying, whips up vegetarian feasts at night and road trips on weekends. Her work has appeared to The Syracuse Post-Standard and insider magazine. Walsh received a master's degree in journalism from Syracuse University.