How Fast Can I Get a Passport?
By Fred Decker
Updated August 24, 2017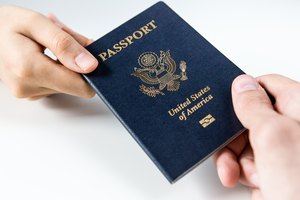 shahfarshid/iStock/GettyImages
Because Sometimes, Waiting Isn't an Option
It's always good to have a valid passport on hand, even if you have no immediate plans to travel. Aside from being a great piece of identification, it means you can just drop everything and go when an opportunity—or an emergency—comes along. If the day comes that you do need to travel in a hurry and you find yourself without a current passport, don't worry: You won't need to wait the standard six to eight weeks for yours to be issued. Depending on your circumstances, you can have a shiny new passport in just days.
Within Three Days, If It's a Matter of Life and Death
If your reason for needing to travel internationally is a life-or-death crisis, the State Department will work with you to push your application through within three business days. You need to have a legitimate, serious reason, and "I didn't realize the old one had expired" won't cut it. This is for life's major catastrophes, such as a death in the family or a serious illness or injury. You'll need to call the State Department's toll-free number and set an appointment, because these emergency applications are done in person. Bring along all the usual documentation for a passport application, as well as some proof of your emergency. If you have to take the kids, they'll also need to be there in person, along with the other parent. In a divided custody situation, you'll need the other parent to be present or to give explicit written permission for your kids to receive a passport.
Within Two Weeks, When You're Traveling Soon
You can have your passport application processed within two weeks, if you're in a real hurry but don't have a life or death emergency on your hands. For that, you'll need to look up the closest passport agency on the State Department's website—there are only a limited number, in regional hubs across the country—and schedule an appointment to apply in person. If the rest of the family also need passports, you'll all need to go, which can make the whole process a serious exercise in logistics and kid management. You might want to bring along a babysitter or other extra adult just to help wrangle the youngsters, as boredom, diapers and hunger take their turns at complicating your day. You'll need to bring along proof that you plan to travel internationally within two weeks, which would usually be your tickets or itinerary.
Less Than Six Weeks, With Standard Expediting
If you're not in a super hurry but your departure date is close to the eight weeks a normal application can take, the basic expedited procedure will speed things up just enough to restore your peace of mind. You'll get your passport in six weeks or less, and you'll have more options for completing your application. If you're renewing an existing passport that's at or near its expiration date, you can renew by mail. Send in the passport renewal form DS-82 with the correct documentation and payment, write "Expedite" in big letters on the outside of the envelope, and you're done. If it's a first-time application, you'll need to apply in person at a passport acceptance facility, but there are hundreds of these across the country so you should be able to find one that's reasonably close. The State Department has a search page on its site to make it easier for you.
What it Costs
The basic fee for a passport application is $110 for adults and $80 for children, and you'll still pay those fees when you use the expedited process. Unless you're renewing an existing adult passport, there's also a $25 "execution fee" for every application. If you want a passport card as well as a booklet, that'll cost an extra $30 per adult and $15 per child, plus a second execution fee per person. You'll pay those prices for any application, expedited or not. Your need for speed will cost you an extra $60 per application, regardless of how you apply. If you're in a serious hurry, you can pay an additional $15.45 per passport to have them sent by overnight courier instead of regular mail, once they're processed. If you're applying for more than one passport, they'll be sent out separately, but you can cover the whole family's applications with a single payment if you wish.
Get the Paperwork Right
If you're applying in person—and you will be, in most of these scenarios—be certain you've got all the paperwork you need. The State Department's website spells this out in detail, but the short version is that you'll need proof of identity, proof of citizenship and a current, valid photo.
Applying for a passport for your kids is more complicated. In addition to those requirements, you'll need to document your parental relationship, bring your own ID as well as theirs, and show that both parents are on board with the child getting a passport. Ordinarily that means you should both be present, otherwise you'll need notarized consent forms from the other parent or court documents showing that you have sole custody of the child. Take time to read the State Department's page on applications for minors before you go. It's challenging enough organizing one of these trips, so you certainly won't want to do it twice because you've overlooked a necessary document.
References
Writer Bio
Fred Decker is a trained chef and certified food-safety trainer. Decker wrote for the Saint John, New Brunswick Telegraph-Journal, and has been published in Canada's Hospitality and Foodservice magazine. He's held positions selling computers, insurance and mutual funds, and was educated at Memorial University of Newfoundland and the Northern Alberta Institute of Technology.