Checking on Your U.S. Passport Status
By Fred Decker
Updated August 24, 2017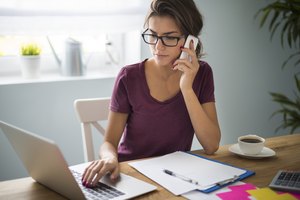 gpointstudio/iStock/GettyImages
It Can Feel Like a Long Wait
If you have any imagination or romance in your soul, holding a brand-new passport—especially if it's your first—brings a real feeling of freedom and liberty. With a valid passport in your hand, the whole world suddenly becomes, at least potentially, your playground. For all the same reasons, the weeks between submitting your application and receiving your passport can feel like an eternity. The State Department provides a couple of ways to check on the status of your application, which can help ease the pangs of impatience.
Checking the Progress of Your Application
Check the status of your application online or by telephone, whichever is more convenient for you.
The National Passport Information Center takes your call toll-free between the hours of 8 a.m. and 10 p.m. Eastern time on weekdays, and from 10 a.m. to 3 p.m. on Saturdays. When you call, provide your surname exactly as it appears on your application, plus your date of birth and the last four digits of your Social Security number.
If you prefer to check online, use the Application Status page on the State Department's website. It'll take up to 10 business days before you can track your application there, but you can then follow it at any time of the day or night. You can also sign up for automatic email updates, so the State Department's system will let you know what's happening at every stage of the process.
If it Doesn't Show Up on Time
Waiting for your application to be processed and approved is the longest part of the process, and under normal circumstances it takes six to eight weeks.
Once your application shows as approved, you'll have another, shorter wait while the passport makes its way to you through the mail. If it doesn't arrive within 10 business days, your passport may have gone astray. If that happens, call the Passport Information Center to report it, and get help filling out a DS-86 form. This document states you haven't received your passport, and once it's received by the State Department your original passport is invalidated and a new one mailed. If your missing, original passport turns up belatedly, get in touch with the Passport Information Center again and arrange to return it. Don't try to use the passport now that it's been invalidated, because that's a criminal offense.
If You're Not Good at Waiting
If the idea of waiting up to eight weeks for processing and then up to 10 business days for mailing has you climbing the walls, or if your travel plans involve leaving relatively soon, you can shorten the process by paying for expedited handling. This costs $60 per person, which isn't bad for one passport but adds up quickly if the whole family applies at once. Expedited processing brings the turnaround time down to two to three weeks or less in emergency situations. You can also opt to pay $15.45 to have your approved passport sent by overnight courier instead of regular mail, which can save you a few extra days of suspense.
The Ounce of Prevention
With any application, there's at least a small chance of delays or requests for additional documentation. If you're applying at a passport agency or acceptance center, the staff will probably notice anything you've overlooked, but omissions are a real risk if you're applying for a renewal by mail using form DS-82. Go through the State Department's application guide carefully, and make sure you have everything. If you've filled out your application form by hand, rather than completing and printing it on the computer, be extra-careful to make it legible. Anything that's hard to read can result in a perfectly avoidable delay, or—even worse—receiving a passport with errors that need correcting.
References
Writer Bio
Fred Decker is a trained chef and certified food-safety trainer. Decker wrote for the Saint John, New Brunswick Telegraph-Journal, and has been published in Canada's Hospitality and Foodservice magazine. He's held positions selling computers, insurance and mutual funds, and was educated at Memorial University of Newfoundland and the Northern Alberta Institute of Technology.