What Is the Passport Form DS-82?
By Kathryn Walsh
Updated August 24, 2017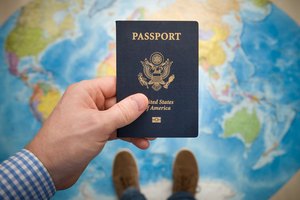 goodmoments/iStock/GettyImages
Stay Travel-Ready by Keeping Your Passport Current
Maybe you're hoping to take a big anniversary trip this year or you're planning to take the kids on their first trip abroad. Have you checked your passport's expiration date lately? If you got your current passport when you were 16 or older, it expires after 10 years. When that expiration date looms, completing form DS-82 is usually the first step in getting a new passport—one that's crisp and clean and ready to accompany you on new adventures.
What Is Form DS-82?
DS-82 is the official name of the U.S. Passport Renewal Application form. It's the form you need to fill out if your U.S. passport has expired or is about to expire, and you meet certain requirements—more on those in a minute. This form isn't for getting a replacement passport if yours is lost or stolen, or for applying for a first passport. It's only used for renewals.
Your passport doesn't have to be expired yet for you to use this form. Standard processing service takes up to eight weeks, so start the renewal process at least that far in advance of your current passport's expiration date. You shouldn't renew your passport this way if you need the new one in less than three weeks. If you do need it in a rush, make an appointment at a Regional Passport Agency right away.
Tips
If you have international travel planned in the next year, look at that country's passport rules now. Some countries require your passport to be valid for six months beyond the end of your stay, which won't work if yours is due to expire. Renew it early just to be safe.
Can I Use Form DS-82?
DS-82 is only for people 16 and older. You must meet six criteria to use the form:
Have your most recent passport or passport card in your possession and can mail it in with your completed application.
You haven't previously reported your passport or passport card as lost or stolen, and it's not significantly damaged in any way. (Missing pages, water damage or destruction of the cover or photo page constitute a damaged passport. Normal wear and tear, like minor bending, is fine.)
You were at least 16 years old when you applied for your most recent passport.
The date your previous passport was issued is within the last 15 years.
If your legal name is now different than the one on your previous passport, you can provide legal documentation of the change, like a marriage license or divorce decree.
Your passport has not been exempted from the usual validity period of 10 years. Limited validity passports are often issued for emergency travel or to replace stolen documents, so they can't be renewed using form DS-82.
If you meet all those qualifications, go ahead and fill out the form. It's only two pages and asks for basic information like address, emergency contact person and most recent passport number. You must also attach a new passport photo to the application. Send it off by mail, along with the old passport, proof of your legal name change if applicable, and a check or money order to cover renewal fees.
What if I Can't Use DS-82?
If you're renewing a child's passport or if you don't meet all six of the above criteria, you have to apply for a passport in the same way you would if it were the first time. That means filling out form DS-11, the standard passport application, and going in person to a designated passport acceptance agent. Many post offices and town clerk offices have this distinction. Bring along proof of citizenship, proof of identity and a check or money order for the application fees.
If you're renewing a child's passport, bring him or her with you to submit the application. You'll also have to prove that both parents give consent, so both parents should submit the application in person and show proof of their relationship to the child using the child's birth certificate. A parent who has sole custody can do this alone, provided she can show evidence of being the legal sole guardian. If the child has a second guardian who can't be there in person, that person can give consent by filling out Form DS-3053.
What Else Should I Know?
For adults, passport renewal fees range from $30 to $140, depending on what type of passport you're requesting. When applying for a traditional passport book, expect to pay a little more than $100. Other options are to get a passport card or both a book and a card.
If you must use DS-11, the standard passport application, the fees are the same, but you'll also have to pay an additional execution fee. Child applicants pay fees less than $100, but their applications also require an extra execution fee.
Timing is important to consider. The state department warns Americans to expect processing times of six to eight weeks for standard service or two to three weeks for expedited service, which costs extra. Typically, it doesn't take that long to receive your new passport, but it can. If you've already submitted your application and decide you need the passport in less than eight weeks, call the National Passport Information Center at 1-877-487-2778 to ask about paying the additional fee to switch your application to expedited service.
References
Writer Bio
Cooking, travel and parenting are three of Kathryn Walsh's passions. She makes chicken nuggets during days nannying, whips up vegetarian feasts at night and road trips on weekends. Her work has appeared to The Syracuse Post-Standard and insider magazine. Walsh received a master's degree in journalism from Syracuse University.