The 411 on Carry-On Liquids
By Jodi Thornton-O'Connell
Updated August 24, 2017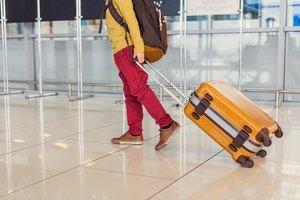 YakobchukOlena/iStock/GettyImages
Kids and Carry-Ons: Here's the Scoop on Liquids, Lunch and Loot
Traveling with kids is never easy. With a great deal of planning and forethought, however, your trip can go off without a hitch. Get through the TSA security check smoothly by knowing what you can pack in your kids' carry-ons.
The TSA 3-1-1 Rule
Anything you can pour out, squeeze out or spray out falls under the TSA's 3-1-1 liquids rule. Each liquid must be in a 3.4 ounce or smaller container. Every container of liquid you bring along in your carry-on must fit in one quart-size, resealable clear plastic bag. Each passenger is allowed to carry only one bag of liquids, so you can't pack your kid's 3-1-1 bags in your carry-on. Liquids add up more quickly than you think when traveling with kids, so you'll have a hard time fitting everything in that resealable quart-sized baggie. Here's a few shortcuts that won't have the kids' bags—or yours—bursting at the seams.
Save Room on Sundries
The TSA limits liquids to a 3.4-ounce container in carry-on baggage, meaning those family-size shampoo bottles and cleansing gels just won't fly. Instead of divvying up toiletries into little bottles, do away with liquids altogether. Discover luxurious bar products that leave your hair and skin feeling smooth and pampered. Solid forms don't count toward the 3-1-1 rule, leaving more room in carry-on bags for other things.
Look for bars of soap, shampoo and conditioner, facial cleanser and lotion. Nourish your locks and skin with ingredients like coconut, argan oil, herbals and Japanese nori. Sunscreen and bug repellent come in balms and sticks. You'll even find foundation in stick form. Take care of teeth with tooth powder and be ready for laundry day with detergent sheets that dissolve in water.
Stow Their Snacks
Don't count on airlines to provide enough snacks for your kids during the flight. Keep them busy chewing and swallowing to equalize ear pressure, a common cause of whining or crying. Fill the clear plastic 3-1-1 quart-size baggie with 2-ounce tubes of yogurt, pickle pops, peanut butter and other low-mess treats to keep them occupied. Fresh fruit, cooked meat, vegetables and hard-cooked eggs are all allowed with no 3-1-1 rule worries. The food must go through the x-ray machine, and the ice pack must be completely frozen, not slushy, when you pass security. You can use up to 5 pounds of dry ice to store perishable food providing the package is vented and marked.
Special Rules for Infant and Toddlers
The TSA grants some leeway to liquids brought on board for babies and toddlers. The agency defines an infant as a child who needs to be physically carried by an adult; a toddler is one who receives adult help to walk through the screening process. Breast milk, premixed formula and juice for infants and toddlers can exceed 3.4 ounces in quantities reasonable for the length of the flight. The liquids are usually X-rayed or opened and tested by other means. If you don't want the liquids tested or x-rayed, you'll be subject to other security screening procedures, such as a pat-down.
If your child doesn't fit the toddler or infant description, pack an empty sippy cup or tumbler with a lid in his carry-on. Once through security, buy juice or milk at one of the airport concessions before you board.
Souvenirs You Can't Bring Through Security
If you're traveling with carry-ons only, you'll need to avoid bringing home certain souvenirs. Snow globes in carry-on bags must be smaller than a tennis ball and able to fit completely within the one-quart bag while it's closed. Don't bring souvenir miniature baseball bats through security; they'll be confiscated. So will squirt guns, Nerf guns, foam swords or anything else that looks like a weapon when it passes through the X-ray machine.
Going Through Security
Kids under 12 don't have to take off shoes when approaching the TSA security checkpoint. Remove young children from strollers or carriers, and carry them through the metal detector. Empty stroller pockets or baskets into a screening bin or stash the items in carry-ons until you're through the screening process. Strollers, toys, booster seats and other items must go through the X-ray machine. Kids of any age will never be separated from their guardians during the screening process.
References
Writer Bio
Indulging her passion for vacation vagary through the written word on a full-time basis since 2010, travel funster Jodi Thornton-O'Connell guides readers to the unexpected, quirky, and awe-inspiring.