All About California Car Seat Law
By Teo Spengler
Updated August 24, 2017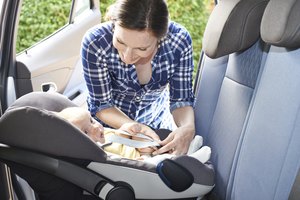 Highwaystarz-Photography/iStock/GettyImages
The Best Seats in the Car
California takes child safety very seriously. When you are driving in the Golden State, follow the car seat law carefully both to protect your kids and to avoid getting an expensive ticket.
Here's what you need to do when it comes to car seats in California.
Car Seats for Tiny Tots
Children under 2 years old must ride in a rear-facing car seat in California. Secure the child into the seat according to instructions provided by the manufacturer. The only exception to the rule occurs if your child is unusually big—40 pounds or over, or at least 40 inches tall. In that case, the child can sit in a front-facing seat.
Rear-facing car seats are five times safer than forward-facing car seats, so keep kids in the rear-facing seats as long as possible.
Placement for Kids Under 8
All kids under the age of 8 have to ride in the back seat of your car. It is against California law for them to be seated in the front, even if they are using the appropriate car or booster seat.
Once a child blows out the candles on his 8th birthday cake or grows to 4 feet 9 inches tall, you can use a safety belt, but be sure it fits appropriately:
The lap belt must fit low and snug over the child's hips.
The shoulder belt must cross the child at mid-shoulder.
The child's knees should bend at the edge of the seat when the child sits all the way back on the vehicle seat.
The child's feet must be on the vehicle floor.

Deciding Between a Five-Point Harness or a Booster
Seat
California law does not specify when you should change a child's car seat from a five-point harness to a booster seat. You'll have to decide that for yourself. If in doubt, keep the five-point harness a little longer, since it is safer than the booster.
Most forward-facing harness seats have weight and/or height limits, often between 40 and 65 pounds. You'll find those limits by reading the manufacturer's manual. Generally, you can graduate your kids to booster seats when they have outgrown the weight or height limits of the forward-facing harnesses. The weight limit is typically between 40 and 65 pounds.
Adult safety belts are built for adults, not young children. You should continue to use booster seats that reposition the seat belts appropriately until the child grows to 4 feet 9 inches tall. Kids may need to continue using booster seats until they are between the ages of 8 and 12.
References
Writer Bio
From Alaska to California, from France's Basque Country to Mexico's Pacific Coast, Teo Spengler has dug the soil, planted seeds and helped trees, flowers and veggies thrive. World traveler, professional writer and consummate gardener, Spengler earned a BA from U.C. Santa Cruz, a law degree from Berkeley's Boalt Hall, and an MA and MFA from San Francisco State. She currently divides her life between San Francisco and southwestern France.