Changing Your Name on a Passport After Marriage in the USA
By Fred Decker
Updated August 24, 2017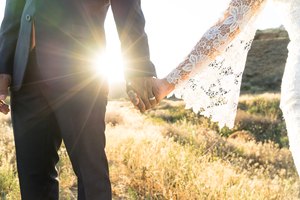 Jason_Lee_Hughes/iStock/GettyImages
After You Marry: Keep Your Passport and Other IDs in Sync
Marrying and re-marrying are happy events, but they do call for some attention to life's little details. One of the first things you'll need to do—especially if you plan to travel anytime soon—is to make sure that your passport and other IDs reflect your new name. Airport security checkpoints, international borders and even car and hotel rentals can be complicated if you have identification in two or even three names, so it's worth investing a few weeks and a few dollars to bring everything up to date.
Making a Name Change on Your Passport
Everything is pretty simple and straightforward. Use the U.S. State Department's form DS-5504 Application for Name Change, available on the department's website to pre-fill or download. Mail the completed form, your current passport and an appropriate legal document that supports the name change, like a marriage certificate or a court order. You'll also need to submit a color passport photo that meets the state department's requirements at the time you send in the forms. There's no fee for the passport name change in this case, but if you need the passport in a hurry, pay extra for expedited service. Normal turnaround time for an application for name change is six to eight weeks, but requesting expedited service cuts that down to two or three weeks.
If You're Eligible to Renew by Mail
If you were 16 or over when you originally got your passport, and if it was issued less than 15 years ago, you may be eligible to use form DS-82 to obtain a name change as part of renewing your old passport. Submit the original passport in usable condition; a marriage certificate or court order to document your new name; the completed application form; and supporting documents. Include a current passport photo and the appropriate application fees, which at the time of writing are $110 for a passport booklet or $140 for the booklet and a passport card.
If You're Not Eligible for the Renewal Process
If your passport is outdated, missing or was issued before you turned 16, you won't be able to use the renewal process. Instead, complete an application for a new passport, using form DS-11. Include documents that support your name change and a new passport photo. You'll also need original documents proving your U.S. citizenship, plus a photocopy of those documents and a valid, current photo ID and a copy. The base fee for this application is $110 for the booklet and $140 for the booklet and passport card, the same as a renewal, but there's an extra $25 execution fee for a total of $125 or $165.
If You're in a Hurry
If you need your passport to travel and can't wait months to get a new one, the expedited application process can save your bacon. If you need to travel in three weeks or less, make an appointment to apply in person at a passport agency or passport center near you. Bring all the same required documentation and pay an additional $60 for a speedy turnaround. If you're okay with getting your passport in eight weeks or less, bring in the completed forms and documents to a passport acceptance facility or do it by mail. But if you go for the mail option, be sure to write "EXPEDITE" on the outside of the envelope in big, bold, can't-miss-it lettering.
A Couple of Last Tips
Supply an original marriage certificate or court order with the passport application, along with your actual passport if you have it. Although the state department won't accept notarized copies, it's a good idea to have some made, anyway, for other purposes, or—in a worst-case scenario—in case the originals go missing in transit. On a related note, paying a bit extra to submit the application by overnight courier is a good idea. It is a faster and more secure way to send crucial personal documents, and it cuts down the overall turnaround time.
References
Writer Bio
Fred Decker is a trained chef and certified food-safety trainer. Decker wrote for the Saint John, New Brunswick Telegraph-Journal, and has been published in Canada's Hospitality and Foodservice magazine. He's held positions selling computers, insurance and mutual funds, and was educated at Memorial University of Newfoundland and the Northern Alberta Institute of Technology.