How Much Is TSA Precheck?
By Fred Decker
Updated August 24, 2017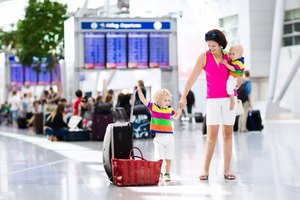 FamVeld/iStock/GettyImages
The Cost Is Minimal, the Convenience Is Priceless
Twenty or 30 minutes isn't a terribly long wait for an adult, but it's a whole other thing when you're juggling a diaper bag, carry-on and a couple of restless kids as well as your boarding passes. If you've had that experience, you probably also had a serious case of "screening envy" watching other travelers saunter through the expedited TSA Precheck line. The good news is that you can use that expedited line when you're traveling with kids, and the cost involved is surprisingly modest. If you'll be traveling with children for years to come, signing up for TSA Precheck might just be the best investment you make.
A Quick Introduction to TSA Precheck
The basic idea is pretty simple. Instead of screening you at the airport, the Transportation Security Administration does that ahead of time. You apply online through the TSA's website, then follow up with an in-person interview after your initial application is processed. You'll need to bring along government-issued ID and provide your fingerprints, and that's pretty much all there is to it. This lets the TSA verify ahead of time that you are who you say you are, and that there's nothing in your background that might represent a security risk. The cost is $85, and you'll be issued a known traveler number, or KTN, that's good for five years, so each year costs just $17. If it saves even a few minutes a year of trying to shush a screaming youngster in a long line, it's money well spent.
Bringing the Family Through the TSA Precheck Line
If you want to go through the expedited screening line as a family—and why wouldn't you?—everyone must be eligible. If you're approved for TSA Precheck, you can bring kids age 12 and under along with you, but anyone 13 and up has to apply and be approved separately. That can pose a problem when it comes to ID. Kids of 13 don't have a driver's license and usually won't have a state-issued photo ID either, so the best option is to plan ahead and get them passports before they hit 13. With a passport in hand, they can get their own KTN, and you can all use the expedited line together. It can add up if you have a large family, but the expenditure is still pretty reasonable, especially if you get to spread it out over a year or two.
Using TSA Precheck When You Travel
When you're traveling with airlines and through airports that support the TSA Precheck program, you simply enter your KTN in the "Known Traveler Number" field when you're booking the flight. Make sure to enter your name exactly the way it appears on your TSA Precheck card; otherwise, the system might not recognize it. You'll still need to bring along any ID you normally would for a domestic or international flight, for you and the kids. Minors don't need their own ID to travel domestically, as far as the TSA is concerned, but individual airlines may ask for ID from your kids. Usually it's to verify that they're entitled to a specific discounted fare, so be sure to check each airline's requirements ahead of time. You really, really don't want any surprises when you get to the departures area.
Alternative Trusted Traveler Programs
TSA Precheck is the Trusted Traveler program you're probably most familiar with, but a couple of similar offerings are worth a look. One is the Global Entry program, which is basically the equivalent of TSA Precheck for people traveling internationally. It costs $100 for five years, or $15 more than TSA Precheck, but if you plan to travel outside of the country—with or without the kids—it's well worth it. If you'll be back and forth across the Canadian border frequently, the NEXUS program is worth a look. It gives you everything TSA Precheck does, plus expedited land or water border crossings to and from Canada, at the bargain price of $50 for five years.
A Few Final Words
The TSA boasts cheerfully that 97 percent of all passengers with TSA Precheck spend five minutes or less in screening, but there are other benefits as well. You won't have to get yourself and the kids out of your jackets and shoes, take off your belt, take out your laptop and unpack the milk you've pumped for the flight (that alone is solid gold). That being said, it's important to remember that the TSA doesn't outright guarantee you'll breeze through screening. You might still be selected for full screening at the TSA's discretion, but the likelihood is low for TSA Precheck passengers. In the regular line, it's 100 percent guaranteed. You'll still come out way, way ahead over the course of five years.
References
Writer Bio
Fred Decker is a trained chef and certified food-safety trainer. Decker wrote for the Saint John, New Brunswick Telegraph-Journal, and has been published in Canada's Hospitality and Foodservice magazine. He's held positions selling computers, insurance and mutual funds, and was educated at Memorial University of Newfoundland and the Northern Alberta Institute of Technology.