All You Need to Know About Passports for Kids
By Leah Rendon
Updated August 24, 2017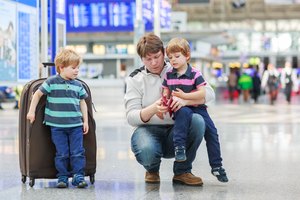 romrodinka/iStock/GettyImages
Getting the Right Paperwork in Order Before Traveling Abroad With Children
You can't wait to see your kids' eyes light up at the sight of the Leaning Tower of Pisa or watch as they snorkel in the Great Barrier Reef. But none of that will happen if your child doesn't have a valid passport. Yes, even minors need passports when setting out for international adventures.
Q: Do kids need a passport when traveling internationally?
A: If you're taking a child who is 17 and under on a domestic vacation, such as to Disneyland or the Florida Keys, a photo ID is not even required to board the plane. But the requirements when traveling internationally with a minor are stricter. All minors, from age 17 to newborns, must have a valid passport for international travel.
Q: What's the passport application process like for a child?
A: Children younger than 16 must apply in person at an acceptance facility, often located at a local library or post office. Most importantly, however, a parent must accompany them to the facility.
Before heading out, download form DS-11 on the U.S. State Department website, print a copy and fill it out. Make sure you also have proof of citizenship for your children (such as a birth certificate or an existing passport), a clear photocopy of the proof of citizenship and a 2-by-2-inch color photo for their passport.
You're not off the hook, either. As the applicant's parent, you'll need to show your own valid photo ID, like a driver's license, as well as a photocopy of the ID. For security purposes, you'll also need to provide some sort of proof that you're actually your child's parent or guardian, such as a birth certificate or adoption papers. Finally, if only one parent is present, the other parent must provide written consent for the passport application. Exceptions can be made if you can't locate the other parent or if you have sole custody.
Q: Is the application process very different for minors age 16 or 17?
A: If your kids are 16 or 17 years of age, the same application requirements apply with one exception: 16- or 17-year-old applicants with their own photo ID, such as a driver's license, do not need their parents to present their IDs. Minors also need to provide parental consent for the passport application. Parents can do that by writing a letter authorizing consent or by accompanying kids to the passport acceptance facility and offering verbal approval.
Q: How much does it cost to get a kid's passport?
A: As of May 2017, the application fee for kids under 16 is $80, which can be paid using a check or money order. There's also a separate $25 execution fee which, in addition to checks and money orders, can be paid with cash or credit/debit cards. For 16 or 17-year-olds, the application fee jumps to $110, but the execution fee is the same.
Q: How long is a child's passport valid?
A: If a passport was issued when your child was 16 or older, the document is good for 10 years. However, if the passport was issued when your kid was under the age of 16, it's valid for only five years.
Q: How do I renew my child's passport?
A: Children whose passports were originally issued when they were younger than 16 must renew in person. Kids who were 16 or older when the passport was originally issued are eligible to renew by mail by filling out Form DS-82. Applicants also need to include their original passport, a new passport photo and the $110 application fee by check or money order.
Q: Do I need any other special paperwork while traveling internationally with a minor?
A: If you're traveling alone with your child internationally, carry a notarized letter from the missing parent providing consent to travel. If you have sole custody of your child, a court order can serve as consent. It's a good idea to bring your child's birth certificate in addition to a passport, just to help clear up any potential confusion.
References
Writer Bio
A travel writer since 2002, Leah Rendon has written countless articles for online pop-culture magazines and various travel-related websites, including Eurobooking and World66. Gosford also has experience in copywriting, having developed a series of articles related to network marketing. She graduated from the University of California, Los Angeles with a degree in theater arts.