Information on Getting Divorced While in the Marine Corps
By Heather Frances J.D.
Updated March 17, 2020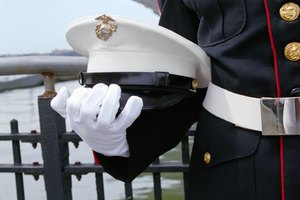 Creatas/Creatas/Getty Images
Like civilians, Marines get divorced. But only civilian courts can grant divorce petitions, and the divorce process is generally the same for civilians and Marines. But the issues a Marine faces when divorcing can be more complicated than those in a civilian divorce, including finding the correct divorce court and figuring out what benefits the non-military spouse retains after the divorce. Both state and federal laws help sort these issues out.
Choosing the Right Court
Military divorces must be filed in state courts because neither military or federal courts have legal authority, or jurisdiction, to decide divorce cases. Since Marines may be stationed in one state, claim legal residency in another state and have a spouse who lives in yet another state, it can be tricky to know where to file. Filing requirements vary by state, but a military member or spouse can file for divorce in the state of their legal residence. Before filing in a particular state, though, it is generally a good idea to first verify the particular rules of that state and how they may affect your military divorce.
Special Protections for Service Members
Marines have special procedural protections under the Servicemembers Civil Relief Act, a federal law. This law allows military members to delay a case by asking for a stay, or postponement, of the court proceedings while they are unavailable to participate in the case because of military duties. Courts must grant an initial stay of at least 90 days, but they have the option to grant a longer stay if appropriate. Thus, if a service member's spouse files for divorce while he is deployed, he may be able to have the case postponed until he returns.
Medical Benefits for the Non-Military Spouse
Many benefits of military life are dependent on the spouses' married status, including the non-military spouse's right to medical benefits. While the spouses are married, the non-military spouse is covered by military medical care. But when the spouses divorce, the non-military spouse loses that medical coverage unless her circumstances fit the 20-20-20 rule: To qualify for ongoing benefits, the couple must have been married at least 20 years, the Marine must have served at least 20 years and the marriage and military service must have overlapped by at least 20 years.
Retirement Benefits for the Non-Military Spouse
Non-military spouses can be awarded a share of the military spouse's retirement pay. Although federal law allows state courts to split a Marine's military pension, it does not determine how the pension must be divided. There is no minimum number of years a couple must be married before the court can divide the military member's pay. However, for the non-military spouse to receive direct payments from the Defense Finance and Accounting Service, the couple must have been married for at least 10 years, during which the military member must have served at least 10 years.
References
Writer Bio
Heather Frances has been writing professionally since 2005. Her work has been published in law reviews, local newspapers and online. Frances holds a Bachelor of Arts in social studies education from the University of Wyoming and a Juris Doctor from Baylor University Law School.