Federal Retirement Benefits for Divorced Spouses
By Heather Frances J.D.
Updated March 17, 2020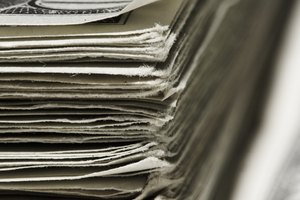 Siri Stafford/Digital Vision/Getty Images
Divorce can impact various types of retirement benefits, making some retirement savings accounts eligible for division and effecting the divorced spouse's eligibility for others. Federal retirement systems generally permit state courts to split federal pensions as part of a divorce, but survivor benefits and Social Security benefits have special rules.
Splitting Federal Benefits
As with other retirement benefits, a state court can divide federal benefits at the time a couple divorces. This includes federal retirement systems, thrift savings plans and military benefits. The amount of benefit given to each spouse can vary by state law based on the circumstances of the divorce and how long the spouses were married while the benefits were being earned. For example, spouses who were married for most of the federal employee's working years might be more likely to see an equal split of benefits. Spouses can agree to a method of splitting the benefits or let the court decide the issue.
Valuing and Distributing Federal Benefits
It can be difficult to determine a value for federal retirement benefits, particularly when the benefits are not fully earned or when the spouses were married for only a short time while the benefits were being earned. For example, the employee spouse's monthly contributions may not directly relate to the value of the pension he will ultimately receive. Divorcing spouses can hire a financial expert to analyze their situation and appropriate valuation methods.
Benefits typically must be divided through a Court Order Acceptable for Processing, which is similar to a Qualified Domestic Relations Order required to divide other types of retirement plans. These orders are not identical, however, so it is important to ensure that each plan's order appropriately divides the benefits.
Survivor Benefits
The federal retirement system offers employees the option to sign up for survivor benefits to be paid to the surviving spouse when the employee spouse's benefits are discontinued due to his death. Employees generally elect these benefits at the time of retirement -- and a divorce decree can order the employee spouse to pay for the survivor benefit for the non-employee spouse. The federal retirement systems allow some survivor benefit adjustments as a result of a divorce. Courts can also order the employee spouse to purchase life insurance to compensate for the financial loss to his ex-spouse if he dies first.
Social Security
A divorce court cannot divide Social Security retirement benefits. These benefits are based on federal rules. A divorced spouse can collect Social Security benefits based on her retired ex-spouse's earnings record if the marriage lasted at least 10 years and the spouse seeking benefits is unmarried and at least age 62. Further, the benefit the spouse would receive based on her own work history must be less than what she would receive based on her ex-spouse's work history -- and the working ex-spouse must actually be entitled to Social Security retirement or disability benefits.
References
Writer Bio
Heather Frances has been writing professionally since 2005. Her work has been published in law reviews, local newspapers and online. Frances holds a Bachelor of Arts in social studies education from the University of Wyoming and a Juris Doctor from Baylor University Law School.