What Are Parental Rights in a Divorce?
By Victoria McGrath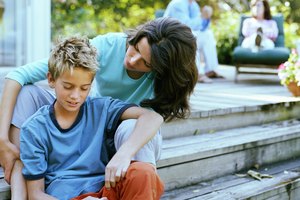 Digital Vision/Photodisc/Getty Images
Parental rights can change drastically during divorce proceedings. Before the court issues a custody order, you and your spouse maintain equal rights to care for your child on a daily basis and make major decisions regarding your child's health and welfare. Once a judge issues a temporary or permanent child custody order in a divorce, the court order establishes each parent's parental rights and responsibilities. These rights traditionally include legal custody and physical custody of a child.
Equal Parental Rights
Prior to filing for divorce, married parents share legal custody and physical custody of their child equally. Under legal custody, each parent maintains rights and responsibilities to make critical decisions regarding the child's education, religious instruction, medical care, mental health treatment and overall well-being. Under physical custody, each parent also has the right and responsibility to provide a safe and secure environment, including adequate housing, healthy meals, proper education, transportation and child care.
Temporary Custody Orders
During the initial stages of the divorce proceedings, before the court issues orders to modify the child custody arrangements, both parents typically continue to share legal custody and physical custody of the child. But some states, like Connecticut, create automatic court orders that take effect as soon as married couples with children file for divorce. These automatic orders generally restrict parents from leaving the state or denying the other parent visitation. In many states, like New Hampshire, parents can attend a preliminary hearing to establish temporary custody orders. When the court issues a temporary order for custody, the judge may also order temporary spousal maintenance and child support.
Parenting Agreement
After filing for a divorce, parents can present a parenting plan to address child support, child custody, parenting time and visitation schedules. If parents agree to share legal custody and physical custody of a child, the court can approve the parents' agreement. In approving parental agreements, courts always consider the best interests of the child, the child's bonds with each parent and the child's special needs. If the judge finds that the agreement is not in the child's best interests, she can issue a custody order contrary to the parents' written agreement.
Court-Ordered Mediation
Prior to issuing a final custody order in a divorce, many courts require parents to attend court-ordered mediation, meet with a family counselor or participate in a parent education program. In Utah, for example, the court can assign a parent coordinator to work with one or both parents and make a recommendation that is in the best interests of the each child. The parent coordinator is a mental health professional with experience in child development. In New Hampshire, the court requires parents to attend a four-hour class on how divorce affects a child's life. Court-ordered mediation helps parents negotiate parental rights and visitation schedules.
Scheduled Visitation Rights
When parents cannot reach an agreement, the court makes a determination regarding physical and legal custody based on the best interests of the child. The court can order joint or sole legal custody, and joint or sole physical custody. If the custody order establishes a custodial parent and a noncustodial parent, the court generally grants the noncustodial parent visitation rights.
References
Writer Bio
Based in Los Angeles, Victoria McGrath has been writing law-related articles since 2004. She specializes in intellectual property, copyright and trademark law. She earned a Juris Doctor from the University of Arizona, College of Law. McGrath pursued both her Bachelor of Arts and Master of Fine Arts at University of California, Los Angeles, in film and television production. Her work has been published in the Daily Bruin and La Gente Newsmagazine.