How to File for Divorce in Arizona if Indigent
By Victoria McGrath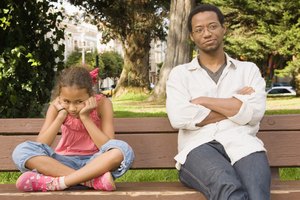 Jupiterimages/Creatas/Getty Images
If you don't have the money to file for divorce in Arizona, the court may be able to waive your filing fees. As an indigent or low-income person, you can submit an application for a deferral or waiver of court fees. A deferral allows you to postpone the payment of court fees and a waiver means that the court waives your court fees permanently.
Application for a Fee Waiver or Deferral
You can file your petition for dissolution of marriage at the superior court in your Arizona county. To avoid or postpone the filing fees, you must complete your written application for a deferral or waiver on court-approved forms and submit it to the correct court. When you sign the application, you agree to pay any deferred fees and costs. The court charges a minimal filing fee, which it may defer or waive, if your application is approved.
Court Order for Waiver or Deferral
The court issues a court order in writing either denying your application or approving a deferral or fee waiver. The order may waive or defer all the required filing fees and other court costs as well. If the court order does not cover all court costs, you may be able to file a supplemental application to waive or defer additional costs at the end of case. Fees that may be waived generally include filing fees, answering fees and summons and subpoena issuance fees.
Eligibility for a Deferral
You can establish your eligibility for a deferral in several ways. You may qualify for a deferral if you receive state assistance, including the temporary assistance for needy families program, supplemental nutrition assistance program or other general assistance. The court considers whether you have insufficient or barely sufficient income to meet essential needs, as well as any extraordinary expenses for medical care, home care for the elderly or disabled, or other special circumstances. The judge reviews all the resources listed on your financial questionnaire including income, savings, property and other assets. The court-ordered deferral allows you to file your court documents and postpone payment of certain court filing fees and other costs until the end of your case or entry of the final judgment.
Eligibility for a Fee Waiver
You may be eligible for a fee waiver if the court finds that you are permanently unable to pay court fees or costs. If the judge decides that you will be able to pay the court fees in the future, the court will order a deferral of fees opposed to a waiver of fees. For a fee waiver, you can complete an affidavit and provide supporting documentation proving that you receive monthly benefits through the supplemental Social Security income program. Documentation might include your benefits letter and your monthly payment amount. The court can approve a fee waiver for an individual on SSI if the judge determines that the individual will never have sufficient resources to pay the court fees.
Service of Process Costs
With a court-order deferral or waiver of fees, you can file your petition for dissolution of marriage and serve a copy of the divorce papers on your spouse. The court requires you to attempt voluntary service of process before requesting that the court defer or waive the services of process costs. If your spouse refuses to accept the divorce papers voluntarily, you can file an application for deferral or waiver for service-of-process fees. You should include a supporting affidavit clarifying the reason for the request, such as refusal of service or dangerous circumstances. You may provide information about an injunction against harassment or any orders of protection against your spouse.
References
Writer Bio
Based in Los Angeles, Victoria McGrath has been writing law-related articles since 2004. She specializes in intellectual property, copyright and trademark law. She earned a Juris Doctor from the University of Arizona, College of Law. McGrath pursued both her Bachelor of Arts and Master of Fine Arts at University of California, Los Angeles, in film and television production. Her work has been published in the Daily Bruin and La Gente Newsmagazine.