What Does an Affidavit of Non-Military Service Mean?
By Beverly Bird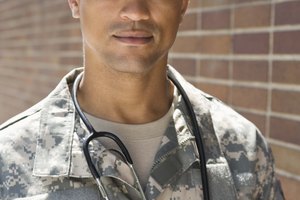 Jupiterimages/Creatas/Getty Images
The Servicemembers Civil Relief Act protects military personnel from having court judgments taken against them while they're on active duty. In cases where a spouse is unresponsive to divorce filings, courts require that plaintiffs or petitioners supply proof that their spouses are not serving in the military. You can provide the court with such proof by submitting an affidavit of non-military service.
When to File the Affidavit
If your spouse files an answer to your petition or complaint, it means that he's actively participating in your divorce, so you don't need an affidavit of non-military service because the terms of the SCRA do not apply. However, if he doesn't answer, the court will want to know that he chose not to do so – and that he wasn't denied the opportunity because he's on active duty. When you request a default judgment or decree because your spouse hasn't participated in the proceedings, the law requires you to attach an affidavit of non-military service to your paperwork.
What to Say in the Affidavit
State courts usually have their own versions of these affidavits, but the form typically asks you to state under oath that your spouse is not in the military. You must also attach documentation to your affidavit, proving this. You can visit the Defense Manpower Data Center website and provide your spouse's Social Security number and birth date. The website will provide you with a report, stating that your spouse is not serving. Your other option is to contact all five branches of the military and get statements from each.
References
Writer Bio
Beverly Bird has been writing professionally since 1983. She is the author of several novels including the bestselling "Comes the Rain" and "With Every Breath." Bird also has extensive experience as a paralegal, primarily in the areas of divorce and family law, bankruptcy and estate law. She covers many legal topics in her articles.