Are Custodial Parents the Responsible Party for Medical Bills?
By Beverly Bird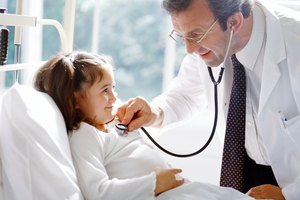 George Doyle/Stockbyte/Getty Images
Anyone who has raised children knows that the costs of health insurance, broken bones and the latest school-spread bugs can be significant. States take these issues into consideration when ordering child support in a divorce. The burden of paying for medical care only falls entirely to one parent – either custodial or noncustodial – in isolated circumstances.
Health Insurance
Most states will address your children's health insurance needs in your divorce decree. Some, like Texas, issue a separate order. This order often requires that the noncustodial parent provide for the policy, particularly if he has access to coverage through his employer. The parent must typically pay any premiums in addition to his child support obligation. Other states, such as Massachusetts, allow you to deduct the cost of premiums from your income -- and child support is then calculated on the balance.
Unreimbursed Medical Expenses
Medical bills that are not covered by insurance are typically – but not always – apportioned between parents. Rules for this can vary considerably from state to state. For example, in Massachusetts and New Jersey, the custodial parent pays the first $250 per child per year, with the balance divided between the parents in proportion to their incomes. The first $250 is considered covered by the child-support obligation. Connecticut caps out this covered portion at $100 per child, and Indiana sets it at 6 percent of the child-support obligation. Texas usually divides all uncovered medical bills equally between the noncustodial parent and the custodial parent, unless there's a significant difference in their incomes.
References
Writer Bio
Beverly Bird has been writing professionally since 1983. She is the author of several novels including the bestselling "Comes the Rain" and "With Every Breath." Bird also has extensive experience as a paralegal, primarily in the areas of divorce and family law, bankruptcy and estate law. She covers many legal topics in her articles.