Disabled Veterans & Child Support in California
By Teo Spengler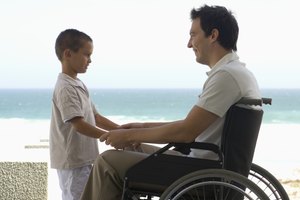 Goodshoot/Goodshoot/Getty Images
Veterans injured in the service of their country are afforded financial assistance and protection by the federal government. This includes monthly disability payments to compensate for lost current and future income. The payments are protected from garnishment by most creditors, but California courts include disability amounts as income in determining a veteran's child support obligations.
Disability Payments in a Divorce
Disabled veterans going through divorce may be concerned about losing a significant part of their federal benefits to their spouses and children. A divorce court cannot divide the benefits as marital property since this is specifically forbidden under the Uniformed Services Former Spouses' Protection Act. However, many states, including California, consider disability payments when calculating family support obligations.
Anti-Attachment Clause
Federal law specifies that disability payments are "exempt from the claim of creditors, and shall not be liable to attachment, levy, or seizure." Some claimed this language prevented disability amounts from being considered by a divorce court. The matter was resolved by the U.S. Supreme Court in the landmark case of Rose vs. Rose, where the Court ruled that veterans' benefits "can and should" be considered as income when a divorce court determines family support obligations. Essentially, the Court stated that federal protections are intended to aid not just the veteran but also his family.
Application in California
In California, each parent has the obligation to support his family. The law assumes that the custodial parent contributes support, but the noncustodial parent's share is determined under child support guidelines unless exceptions apply. The guidelines take into account all revenue earned by the spouses, including veterans' disability benefits. A couple may agree in writing on a support amount different than that provided by the guidelines, subject to court approval.
Garnishing Veterans Benefits
Garnishment is a manner of debt collection in which the court instructs an employer or agency making payments to an individual to retain a part of the amount to pay directly to a creditor. Federal law permits the garnishment of disability payments to meet family support obligations to the extent that the veteran waived military retirement pay to receive the benefits. Only the part of the disability paid in lieu of retirement can be attached. Before garnishment can occur, the ex-spouse must file a request for apportionment with the Veterans Administration asking it to assign a certain portion of the benefits to the spouse or a minor child. California courts permit the garnishment of veterans benefits for child support and spousal support to the maximum extent allowed under federal law.
References
Resources
Writer Bio
From Alaska to California, from France's Basque Country to Mexico's Pacific Coast, Teo Spengler has dug the soil, planted seeds and helped trees, flowers and veggies thrive. World traveler, professional writer and consummate gardener, Spengler earned a BA from U.C. Santa Cruz, a law degree from Berkeley's Boalt Hall, and an MA and MFA from San Francisco State. She currently divides her life between San Francisco and southwestern France.