What Should You Do When a Divorce Lawyer Does Not Respond?
By Jennifer Williams
Updated March 19, 2020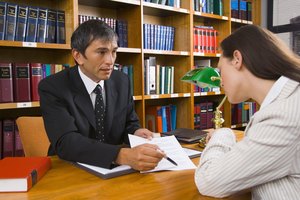 Pixland/Pixland/Getty Images
When your lawyer stops communicating with you about your case, it increases the stress and anger of divorce. If you've hired a lawyer to represent you, you should at least have the peace of mind of knowing that a professional is in your corner. If your lawyer does not respond, there are steps you can take to re-establish communication and keep your case on track.
Rules of Professional Conduct
The rules governing attorney conduct vary little from state to state. They require that an attorney consult with his client regarding case goals and keep the client up to date regarding what documents have been filed. He must represent the client to the best of his ability by meeting filing deadlines and appearing in court as ordered. Failure to meet these responsibilities can result in disciplinary action. Consistent failure to return a client's phone calls and written communications is also grounds for sanctions.
Communication
Keep in mind that your lawyer is probably working on multiple cases. He has documents to draft and file, and court appearances to make. He also has other phone calls to return. If your lawyer isn't available when you call, a message left with staff or via voicemail should be all that's necessary to get a return call, especially if you indicate that your issue is an emergency. You have the right to expect your lawyer or a staff member to return your call as soon as possible.
Failure to Respond
If your lawyer fails to respond within a reasonable amount of time, some courts suggest a heart to heart with him before you file a grievance. Let him know how unhappy you are with his performance. If you can't reach your attorney by phone, you can do this in a letter. Ask your state's bar association if it has a customer service program that intercedes in situations in which an attorney's conduct is unacceptable. In Massachusetts, for example, the Attorney and Consumer Assistance Program will contact your lawyer on your behalf to try to re-establish communication.
Bar Complaints
If all efforts to re-establish communication have failed, it may be time to consider filing a bar complaint and replacing your lawyer. The complaint would include an explanation of the problem and a description of the lawyer's behavior that prompted the complaint. The explanation should also be supported by details. Complaints are investigated, at which time you may be contacted by the investigator. If the investigation confirms potential malpractice, a hearing is held that results in discipline recommendations to the state Board of Bar Examiners. Final discipline is decided by the Board and ranges from a reprimand to full disbarment.
References
Writer Bio
An attorney for more than 18 years, Jennifer Williams has served the Florida Judiciary as supervising attorney for research and drafting, and as appointed special master. Williams has a Bachelor of Arts in communications from Jacksonville University, law degree from NSU's Shepard-Broad Law Center and certificates in environmental law and Native American rights from Tulsa University Law.