How Soon After We Take Parenting Classes Can Divorce Be Finalized in Georgia?
By Beverly Bird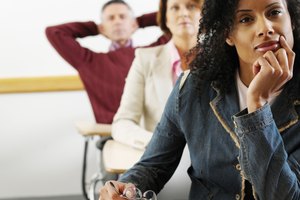 Stockbyte/Stockbyte/Getty Images
When parents divorce, most states want to make sure they don't take the transition too lightly, at least with respect to their children. State law may require parenting classes during the divorce proceedings. In Georgia, there's no set time period after you take the class that your divorce can be made final – this depends on other aspects of your case. It also depends on when during the proceedings you take the class.
Parenting Classes
For divorcing spouses with children, there's no way to avoid attending Georgia's parenting class, because you must file a certificate of completion with the court after you've done so. Most counties offer the classes only a few times a month. The seminar lasts approximately five hours, and each county provides its own course. Even if you immediately try to register for the class after you file for divorce, there may be a wait time depending on available openings. Depending on the disposition of your judge, he may grant a divorce if only one spouse has attended, and he may restrict the other parent's visitation until he attends, also. If neither of you attend, it's unlikely that you'll be granted a divorce.
General Timeframes
Even if you and your spouse both enroll for the parenting class immediately after filing for divorce, your case still might take several years to resolve if you're contesting certain aspects, such as property and custody. If you attend the class right away, however, and if your divorce is uncontested – and you agree on all issues – you might be divorced within a month and a half, or so -- from start to finish.
References
Writer Bio
Beverly Bird has been writing professionally since 1983. She is the author of several novels including the bestselling "Comes the Rain" and "With Every Breath." Bird also has extensive experience as a paralegal, primarily in the areas of divorce and family law, bankruptcy and estate law. She covers many legal topics in her articles.