In Arizona, What Happens After the Waiting Period in Your Divorce?
By Beverly Bird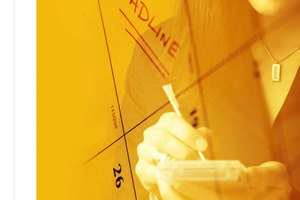 Hemera Technologies/AbleStock.com/Getty Images
Many states, including Arizona, have built time periods into their divorce legislation, during which a case cannot move forward. In Arizona, this waiting period is 60 days, and it allows spouses time to reconsider before their divorce is finalized. Under the best of circumstances, the soonest you can be divorced in this state is 61 days after you have your spouse served with your paperwork.
Divorce by Default
What happens after Arizona's 60-day waiting period depends on the specifics of your divorce. When you serve your spouse with a copy of your papers, he has 20 days within which to file a response. If he doesn't do so, you can ask the court to grant you a divorce by default. Your divorce will be granted – but not until the 60-day waiting period has run out.
Uncontested Divorce
An uncontested divorce is one in which you and your spouse have ironed out every detail, including property, debts, custody and support. You're ending your marriage by consent, and the court doesn't have to make any rulings. You can submit your signed settlement agreement during the 60-day waiting period, and the judge will sign off on it shortly after the waiting period expires.
Contested Divorces
If your divorce is contested, Arizona's waiting period won't have much of an effect on the proceedings. You're headed for a trial so the court can decide your outstanding issues, and this will probably take much longer than 60 days. After the waiting period, you must let the court know that you don't have a comprehensive settlement agreement, and then request a trial date.
References
Writer Bio
Beverly Bird has been writing professionally since 1983. She is the author of several novels including the bestselling "Comes the Rain" and "With Every Breath." Bird also has extensive experience as a paralegal, primarily in the areas of divorce and family law, bankruptcy and estate law. She covers many legal topics in her articles.