How an Inmate Obtains a Divorce in Ohio
By Jen Gehring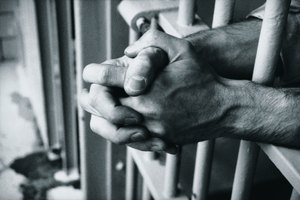 Dick Luria/Photodisc/Getty Images
Although filing for divorce while incarcerated poses a unique set of challenges, the process itself is the same for all Ohio residents, including inmates. Although the process may be time consuming, by using readily-available resources, following prison procedures, and meeting Ohio's statutory requirements, inmates can successfully navigate the legal system and ultimately be granted a divorce.
Divorce or Dissolution
When ending a marriage in Ohio, you can choose between dissolution and divorce. If you and your spouse agree on all marital issues, you can file for a dissolution. Although dissolutions move easily through the court system, they may be difficult for inmates because the process requires communication with their spouses, often multiple times. If you and your spouse cannot agree, you can file for divorce instead. Divorce is a lengthy, more costly process, and often difficult for inmates as it involves more paperwork and multiple court appearances.
Required Forms
Ohio prisons house law libraries which should have all the required forms on hand. Law library staff and inmates working as law library clerks can help guide you through the process. If you have Internet access, you can download the proper forms from the website of the county court. If you are filing for a dissolution, both you and your spouse must fill out the proper forms. If you file for a divorce, you will need to draft a divorce complaint stating your reason for the divorce.
Filings
Due to the limitations of incarceration, you will need someone to file the paperwork on your behalf. Talk to your prison's law library staff about options for having a third party do this for you. Ohio law requires that a person filing for divorce in the state has lived in Ohio for at least six months prior to filing, and has lived in the county where the divorce is being filed for at least three months before filing for divorce. After three months of incarceration, you can file for divorce in the county where you are incarcerated.
Service and Response
Once the initial divorce papers are filed with the court, your spouse must be served with notice of the proceeding. Ohio inmates do not need to personally arrange for divorce papers to be served because the county clerk of the court where the papers were filed will handle service by mailing a copy of the divorce complaint to the inmate's spouse. Once served, your spouse must answer your complaint, respond to your allegations and may even raise defenses. Your spouse may also file a counterclaim.
Obtaining the Judgment
If you filed for a dissolution, your final hearing will be scheduled between 30 and 90 days from when you filed. In order for a dissolution to be granted, both parties must attend the hearing, so talk to your prison counsel about making arrangements to attend. If you filed for divorce, the court will set a series of pretrial conferences, additional hearings and a trial if an agreement cannot be reached. If you cannot attend your hearings in person, you may be allowed to attend via telephone.
References
Resources
Writer Bio
Jen Gehring is a political consultant and college law professor. She holds a J.D. from American University and a Bachelor of Arts in history from the University of Cincinnati. She began working as a professional writer in 2010.