Can Children Refuse Visitation?
By Anna Assad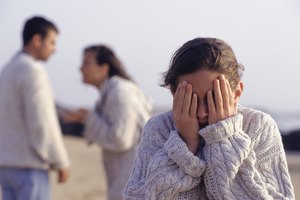 David De Lossy/Photodisc/Getty Images
While the courts will give a child's wishes more consideration as she grows older, someone younger than 18 can't refuse to visit her noncustodial parent. Unless visitation would risk physical or mental harm to the child, the courts won't allow her to refuse visitation without consequences for the custodial parent.
Resolution
The noncustodial parent can take you to court if you don't follow the visitation schedule, even if it is the child who refuses to go. Talk with your child to discover why she doesn't want to go with the other parent. Answer her concerns and encourage her to cooperate. Adjust the visitation schedule if doing so will solve her issue. For example, if a visitation day is preventing her from doing a sports activity, you and the other parent can revise the schedule to avoid the conflict. Always return to court to formally modify a visitation schedule if your schedule is set in writing or you expect trouble with the other parent.
Writer Bio
Anna Assad began writing professionally in 1999 and has published several legal articles for various websites. She has an extensive real estate and criminal legal background. She also tutored in English for nearly eight years, attended Buffalo State College for paralegal studies and accounting, and minored in English literature, receiving a Bachelor of Arts.