The Divorce Process in Florida If a Spouse Is Incarcerated
By Beverly Bird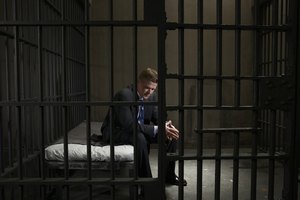 Darrin Klimek/Digital Vision/Getty Images
If you were already contemplating divorce, your spouse being sent to jail probably cements your decision. You might also decide to file for a Florida dissolution of your marriage because your spouse has been sentenced to prison for a lengthy period of time. In either case, his incarceration doesn't mean you can't obtain a divorce, but you'll need the court's cooperation to waive some of the usual rules.
Filing for Divorce
Your spouse's incarceration should not have much of an effect on your ability to file for divorce. Florida's petition for dissolution only requires that you provide an address for him if he is the father of your children. If this is the case, you can simply use the prison address. Provided that one of you has lived in Florida for at least six months, you can file in any county in the state. Florida has only two grounds for divorce – irretrievable breakdown of the marriage or mental incompetence – so your spouse's incarceration generally would not be a factor in petitioning the court for dissolution.
Service of Process
After you file for divorce, Florida law requires that you serve your spouse with a copy of the petition and accompanying paperwork. His incarceration should not be an impediment to this process. You can ask a private process server or the county sheriff to deliver the documents to him at the prison. And, if he doesn't object to the divorce, you can mail him your papers along with the form called a waiver of service of process. If he agrees to sign this waiver and returns it to you, you can file it with the court rather than needing to use a process server. Regardless of which of these methods of service of process you use, your spouse has 20 days to file a response to your petition with the court. He can do this from jail, either with the help of an attorney or on his own.
Parenting Class and Mediation
If you have children, Florida law mandates that both spouses attend a parenting class, and possibly mediation to help you reach an agreement on a parenting plan. Your spouse's incarceration may present a roadblock to these requirements because both parents must attend in person. You can get around this rule, however, because Florida law considers incarceration a special circumstance that allows a parent to attend an online parenting class instead. If the incarcerated parent doesn't have access to the Internet, the court can waive this requirement on the ground that he's unable to complete it. Your spouse would have to file a motion with the court for this exemption. If he refuses to do so, speak with an attorney to find out if you can file the motion yourself. The fact that he's incarcerated will, in most cases, be reason for the court to grant you custody – at least temporarily while he's incarcerated. Incarceration, by itself, may not result in termination of his parental rights. Florida judges decide such issues on a case by case basis.
Support
When a spouse is incarcerated, most Florida courts handle support issues differently than in standard divorce situations, depending on which county you file in. If you and your spouse own sufficient marital assets, the court might award a disproportionate share to you, giving you more of the marital property to compensate for not receiving support while your spouse is in jail. Some counties may waive the requirement that he must pay you until after his release. If you have concerns about support issues, speak with a lawyer in your county to find out where you stand.
Finalizing Your Divorce
If your spouse doesn't file a response to your petition for dissolution, you can file for a default divorce 25 days after he was served with your paperwork. After the court has approved your default request, you can schedule a hearing to finalize your divorce. Otherwise, if your spouse contests the divorce, and you're unable to negotiate a marital settlement agreement with him while he's in jail, it's possible that he can participate in required court hearings by telephone. He must file a motion with the court for this special consideration and will probably do so in order for the court to hear his arguments.
References
Writer Bio
Beverly Bird has been writing professionally since 1983. She is the author of several novels including the bestselling "Comes the Rain" and "With Every Breath." Bird also has extensive experience as a paralegal, primarily in the areas of divorce and family law, bankruptcy and estate law. She covers many legal topics in her articles.