How Long Does a Divorce in West Virginia Take?
By Wayne Thomas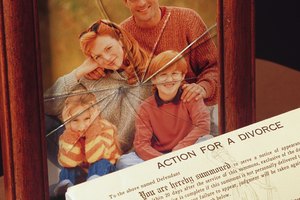 Comstock/Comstock/Getty Images
The role of a judge in a West Virginia divorce is to resolve all contested issues between a married couple. Although the state requires parties to meet certain basic residency requirements, the length of time it takes to obtain a divorce depends greatly on how quickly the couple can reach agreement before coming to court. In cases where the appropriate paperwork has been filed and parties can fully agree, a divorce can often be granted as soon as the court has an opening in the docket.
Residency Requirement
At the outset, the length of time it takes to obtain a divorce in West Virginia will depend on whether you can presently meet the state's residency requirement. By law, if you were married in West Virginia and either you or your spouse currently live in the state, you satisfy the requirement. This is true regardless of the length of your residency. If you were not married in West Virginia, you must live in the state for at least one year before you may file for divorce.
Basis for Divorce
The stated reason for your divorce can also affect the time it takes to dissolve a marriage in West Virginia. The state allows both fault and no-fault grounds for divorce, some of which have built in waiting requirements. For example, the fault ground of abandonment requires that the desertion have persisted for a minimum of six months, and the no-fault ground of voluntary separation requires a continuous period of living separate and apart for at least one year. By contrast, the fault ground of adultery and the no-fault ground of irreconcilable differences do not require the parties to wait before filing.
Uncontested Divorce
Unlike some states, West Virginia does not impose a statutory cooling off period for divorce. However, once you have filed for divorce and your spouse has received notice, your spouse has what is known as a protected answer period. This means that your spouse has up to 20 days to respond in writing to your divorce petition before the case can move forward. However, if you and your spouse are in total agreement about the divorce, notice and the answer period can be waived and the response can be filed immediately. This is known as an uncontested divorce in West Virginia, which requires parties to complete a marital separation agreement in advance of the first hearing. The agreement outlines all of the major divorce issues, including property division, child custody and spousal support. In these cases, a divorce can often be granted as soon as the court can schedule a hearing date, which varies by county.
Contested Divorce
If you and your spouse cannot agree on all of the issues, the time it will take to finalize the divorce will depend on several factors. These factors include the complexity of the issues, the time it takes to exchange financial information, and whether mediation is ordered. Further, separate hearings will be required if either party requests temporary orders for custody, child support or spousal support. In addition, fault grounds require the testimony of witnesses and can lead to longer pretrial periods, sometimes involving subpoenas and depositions, as well as long trials. Once judgment is issued, either party may seek an appeal, which can further delay the process for several months.
References
Writer Bio
Wayne Thomas earned his J.D. from Penn State University and has been practicing law since 2008. He has experience writing about environmental topics, music and health, as well as legal issues. Since 2011, Thomas has also served as a contributing editor for the "Vermont Environmental Monitor."