How to Serve Military Personnel With Divorce Papers
By Heather Frances J.D.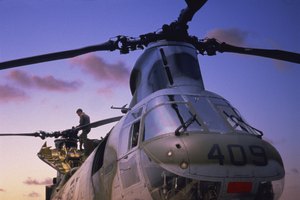 Jupiterimages/Photos.com/Getty Images
Military courts cannot grant divorces, so military couples must get divorced in state courts following the same basic process that civilians follow. However, divorces involving service members can have additional obstacles because of the nature of military service. For example, it can be tricky to find a way to serve your military spouse if he is overseas or on a military base.
What to Serve
The first step to your divorce is filing paperwork with the divorce court as required by your state. Typically, this includes a complaint, or petition, describing the basis for your divorce and the relief you are seeking, including child support, child custody, property division and spousal support. Once you file this document and any other documents your state requires with the court, you must serve a copy of the complaint and a summons on your spouse. A summons is the document that tells your spouse the deadlines he must follow if he chooses to file an answer to the complaint.
Personal Service
Personal service is one of the most common ways to serve your spouse with a summons and complaint. The exact requirements for this type of service vary among states, but it generally involves a third party, such as a sheriff or process server, delivering the divorce papers directly to your spouse. You must then file a proof of service document with the court, in which the third party certifies the service met your state's requirements. If your spouse lives in the local area and can be found by a process server or sheriff, this may be the easiest way to serve him. If your spouse lives in another area, you may be able to have a process server or sheriff where your spouse lives serve him with the papers.
Acceptance of Service
Your state may allow you to meet the service requirements by having your spouse accept service voluntarily. For example, you can personally hand the documents to your spouse or mail them to him. He must then sign an acknowledgment document stating he received the papers. This document does not mean he is consenting to the divorce or agreeing with the statements in your complaint; it simply means he got the papers. As long as your spouse is willing to cooperate, this method works well for military families since it allows couples to work through the divorce process while one of them is stationed elsewhere -- even overseas.
Overseas Service
If your spouse is stationed overseas, it may be particularly difficult to serve him if he will not voluntarily accept service. The court can appoint an active duty, reserve or civilian person as an officer of the court to serve him with the papers at his overseas location, but military regulations may not permit service on a ship or military base. Depending on his overseas location, service could violate the Hague Convention. Instead, you can mail the summons and complaint to the Hague Convention's central authority who will then serve your spouse, and such service typically meets state court requirements.
References
Writer Bio
Heather Frances has been writing professionally since 2005. Her work has been published in law reviews, local newspapers and online. Frances holds a Bachelor of Arts in social studies education from the University of Wyoming and a Juris Doctor from Baylor University Law School.