Legal Name Changes in Texas After a Divorce
By Heather Frances J.D.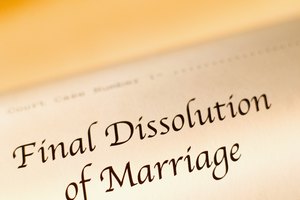 Stockbyte/Stockbyte/Getty Images
If you changed your name when you married, you get to choose whether or not you want to change your name back when you divorce. Though this process is typically completed during the divorce, Texas also allows you to change your name outside the divorce process. Thus, if you don't change your name, but reconsider after your divorce and decide that you do want to change your name, you can follow the court process to change it.
Divorce Decree
Divorce-related name changes typically take place during the divorce itself. To have your name changed as part of your divorce, you must ask the court to have your previous name restored by including your request in your divorce petition, and you must certify you are not asking for the name change to avoid criminal prosecution or creditors. The court can then order your name changed as part of the divorce decree, allowing you to use the decree as proof of your legal name change. However, you cannot use this method to change your name to anything other than what it was before you married.
Legal Name Change
If you don't ask the court to change your legal name before the judge issues his divorce decree, he can't include it in his decree, so it may be necessary for you to go through a regular legal name change. Since your name cannot be changed without court permission, you must still get a court order to change your name. You may also have to use the regular name change process if you want to change your name to something other than the name you used before marriage.
Petition for Name Change
To get your name changed after your divorce, you must file a petition for a change of name with the district clerk of the county where you live. The court clerk then assigns a case to a specific court in your county. Your petition must include certain information, including your current name and address; your date of birth and Social Security number; the full new name you request; and the reason you are requesting the name change. If you have a criminal history, you must disclose information about your past convictions and criminal history identification numbers.
Additional Requirements
Along with your petition, you must provide a legible set of your fingerprints on an approved fingerprint card. Your petition must be verified, meaning you must sign it in the presence of a notary and swear the information in the petition is true. You must also prepare an order for change of name for the judge to sign. The order contains the same information in the petition and must also state the name change is for your benefit and in the interests of the public. The court will schedule a hearing on your name change, and the judge may ask you to repeat the information in your petition before he signs your name change order.
References
Writer Bio
Heather Frances has been writing professionally since 2005. Her work has been published in law reviews, local newspapers and online. Frances holds a Bachelor of Arts in social studies education from the University of Wyoming and a Juris Doctor from Baylor University Law School.