How to File for Divorce With Children in Georgia
By Jennifer Williams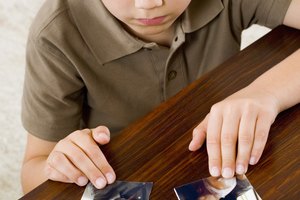 Pixland/Pixland/Getty Images
The state of Georgia offers a divorce process for couples without minor children and one for couples with minor children. The two differ in the paperwork required by the court and steps required to proceed through the divorce case. A divorce with minor children includes procedures that specifically address custody, support and visitation. In these cases, Georgia's focus shifts from the divorcing spouses to the children and the "best interest of the child" standard is applied.
Download the Complaint for Divorce with Minor Children form. If you have minor children with the spouse you are divorcing, you must use the complaint that includes children. The state of Georgia and various Georgia county websites have the complaint form available for free download, along with the other forms required in a divorce with minor children.
Fill out the form. Begin by filling in the county where you will file the complaint; in Georgia, this is the county where the defendant spouse lives. Skip, for now, filling in the case number, and instead fill in the case name. Provide your name, your spouse's name and other requested information. When you come to the section regarding your children, answer all questions for each child, including name, age, date of birth, place of birth, current residence, past residences, people with whom the children have lived and whether there are any other cases pending concerning these same children. Answer the questions regarding custody, visitation and support, and state whether you and your spouse have come to an agreed parenting plan.
Sign and date the complaint, have it notarized, and file it in the Superior Court where your spouse lives. If he has relocated out of state, file it in the county where you reside. Once the case is filed, it is assigned a case number, which either you or the clerk will need to go back and enter in the space provided on all your paperwork to be filed. With the complaint, Georgia also requires that you file a Disclosure Statement that provides the case type, name and number, a Domestic Relations Case Filing Information Form which identifies the parties and states whether domestic violence is an issue, a Report of Divorce, Annulment, or Dissolution of Marriage that provides statistical information about the marriage to the state.
Serve the complaint and accompanying paperwork on your spouse. Georgia allows your spouse to waive service by executing an Acknowledgement of Service and Consent to Jurisdiction. By signing this form your spouse agrees to the jurisdiction of the court. File this form and no further service is needed. If your spouse will not sign the acknowledgement, you must serve him through the process service division of the county sheriff's office. Once the papers have been delivered, verification that he received them, called a return of service, is filed by the server.
File a parenting plan if you and your spouse have agreed on all issues regarding your minor children. These issues include residential custody, visitation and child support. If there is no agreement, file your own proposed parenting plan. Eventually you and your spouse will have to file your own financial affidavits, and a marital settlement agreement if you and your spouse agree about the division of all marital property. If there is no agreement, you will file your own proposed agreement.
Tips
Either you, your spouse, or both of you must have lived in Georgia for six months prior to filing in order for the state of Georgia to have jurisdiction over your divorce.
Some counties in Georgia, such as Cobb County, have enacted a local judicial rule requiring parents divorcing within the county to attend a parenting seminar. The seminar makes parents aware of the emotional issues children face as their parents divorce. While there is no seminar paperwork required as part of the initial divorce filing, you may want to consider signing up for the seminar at approximately the same time you file your initial papers. These seminars fill up fast. Individual completion certificates will have to be filed for you and your spouse before the divorce can be granted, and you don't want the final decree of divorce delayed because you're still waiting to take your seminar.
References
Resources
Writer Bio
An attorney for more than 18 years, Jennifer Williams has served the Florida Judiciary as supervising attorney for research and drafting, and as appointed special master. Williams has a Bachelor of Arts in communications from Jacksonville University, law degree from NSU's Shepard-Broad Law Center and certificates in environmental law and Native American rights from Tulsa University Law.