How to File for a Dissolution of Domestic Partnership in California
By Heather Frances J.D.
Updated April 01, 2020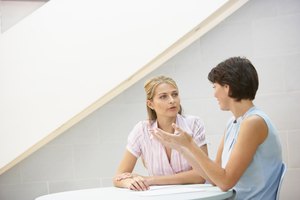 BananaStock/BananaStock/Getty Images
California offers two ways for partners in a registered domestic partnership to go their separate ways: dissolution and termination. Since domestic partnerships are registered by the California Secretary of State, the termination process goes through that office and does not provide the right to a hearing or the ability to appeal. Dissolution, also known as divorce, works through the courts to end the relationship. California offers a shortened dissolution process for couples who are married for less than five years, have no children and agree on how to divide their property, but this shortened dissolution process is not available for registered domestic partners. The termination process through the Secretary of State is similarly abbreviated for partners who qualify.
Basic Requirements
California courts can dissolve domestic partnerships registered in California regardless of where you live. If your partnership was registered in another state, you can still file for dissolution in California if you meet certain residency requirements. You or your partner must have lived in the state for the past six months and for at least three months in the county where you intend to file.
Filing
To begin your dissolution, file the petition, form FL-103, and include the date you registered your partnership; the place your partnership was established; information about your children; your debts and assets; and a list of determinations you are asking the court to make. California requires you to file additional forms with your petition. Form FL-110, a summons, notifies your partner that he has 30 days to file a response and that the court can make decisions without him if he chooses not to respond. Form FL-105 is required if the partners have minor children.
Once you file the required forms with the court, you must ensure copies are served on your partner by someone over 18 who is not involved in the case. The person who gives your partner the dissolution paperwork must complete form FL-115 to provide proof of service. This form must be brought or mailed to the courthouse.
Exchanging Information
After your partner is served, you are required to exchange financial information. You do not need to file the financial information with the court, but you do have to complete form FL-140 informing the court that you disclosed the required financial information to your partner. Then, serve a copy of FL-140 on your spouse and file FL-141 to prove the service of that form. If you reach a dissolution agreement with your partner, you can file the agreement with the court to avoid a court hearing on those terms.
Orders
If you and your spouse cannot agree on the terms of the dissolution, request a hearing on the issues you disagree about by filing form FL-300, which tells the court what orders you are requesting, such as child support and custody. Your case becomes final when the judge issues a final judgment and notice of the entry of the judgment, form FL-190. You or your partner must prepare those forms and attachments for the court, including orders that divide your property, create custody arrangements and establish support, if appropriate. Even if you and your partner agree on all issues, dissolution typically takes at least six months from the date you served your partner with the original paperwork.
References
Writer Bio
Heather Frances has been writing professionally since 2005. Her work has been published in law reviews, local newspapers and online. Frances holds a Bachelor of Arts in social studies education from the University of Wyoming and a Juris Doctor from Baylor University Law School.