How to Petition a Court in a Different State for Child Visitation Rights
By Angie Gambone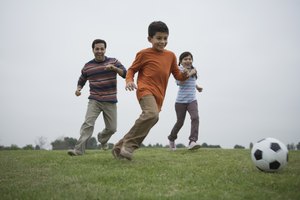 Jupiterimages/Brand X Pictures/Getty Images
If your children reside in a different state and you want to initiate or enforce your visitation rights, the first thing you need to know is where to file your case. For initial petitions, this will typically depend on where the parents and children reside as well as how long the children have lived in or out of a particular state. For enforcement petitions, this typically depends on what state court issued the initial order. Once you know what court is handling your case, you must then file a petition requesting visitation or enforcement of an already existing visitation order. You also have the option of reaching an agreement with your ex so that court intervention is unnecessary.
Custody and Visitation Agreements
If no court order exists with respect to custody and visitation, known as parenting time in some states, you have several options. If you and your ex get along well, the two of you can write your own agreement with respect to the children. Afterward, you would submit the signed agreement to the proper court, often in the state where either you or your ex resides. Upon approval, the court would convert the agreement into a consent order. If either parent later violates this order, it would be the same as violating a court order and a judge could force the violating parent to honor the agreement.
Mediation and Arbitration
If you and your ex are unable to reach an agreement with respect to custody and visitation, the court will usually send you to mediation. During mediation, you and your ex would work with a neutral third party and attempt to reach an agreement. Mediation is not binding. Therefore, if it is unsuccessful, you must return to court. Some courts, on the other hand, will send you to arbitration. Arbitration is similar to mediation. However, if you and your ex cannot reach an agreement, the arbitrator will make the decision for you and this decision will be binding.
Initial Custody Orders
If mediation is unsuccessful, a court will make its own determination as to custody and visitation. Usually, both parents will appear before the judge and be permitted to testify, present evidence and call witnesses. The court that handles the initial custody determination will be the court where you or your ex first filed the petition. This can be in the state where either of you and the children reside, as long as they have lived in the state for at least six months. The court that issues the initial custody order typically retains jurisdiction over any custody matters that may arise in the future, provided that either parent or children still live in that state. Therefore, you should try to file your initial paperwork in the state that is the most convenient for you.
Custody Determination Factors
In making an initial custody determination, a judge will consider many factors. This includes the ability of the parents to get along, parents' work schedules, children's school involvement and extracurricular activities, and past history of visitation. The judge will also take into account any history of domestic violence or violations of previous court orders. If a child is older, the judge may interview him to determine his wishes as well. Since no two cases are identical, the judge will gather as much information as possible to make a decision. You will be permitted to introduce whatever evidence you think helps prove you are an involved, available parent. This may include your work schedule, proof of your attendance at your children's school functions and doctor's appointments, or witnesses who can testify to your parenting skills.
Enforcing an Existing Custody Order
Once you have an initial custody order in place, all future enforcement actions or modification requests must be brought in the court that issued the initial order as long as either parent or child still lives in that state. For example, assume the initial order was from Maryland and then you moved to Florida, but your ex and children remained in Maryland. If your ex violates the order, you would need to file a motion in the appropriate Maryland court to enforce your rights. Similarly, if you want to modify or change the initial order, you would need to travel to Maryland to do this as well.
Enforcement Motion
If your ex violates the custody order, you must file a motion for enforcement. The courthouse that issued the initial order can provide you with the appropriate paperwork to do so. This is different from the paperwork necessary to establish an initial order. Be certain to check with the courthouse staff or a legal services attorney to make sure you use the correct forms. A petition to enforce or modify an existing court order must include a copy of the initial order. In the petition, you will tell your side of the story and explain why you want to change the order or how your ex violated it. You must then serve the motion on your ex as required by the court, often by certified mail or personal service. The court will set a hearing date, at which time you must travel to that state and attend the hearing, and a judge will make a decision on your motion.
References
Resources
Writer Bio
Angie Gambone is an attorney who has been writing for various websites since 2009. She covers a variety of topics, focusing on legal issues, family law and LGBT rights. Gambone holds a bachelor's degree in social work from Rutgers University and a law degree from Rutgers School of Law, where she graduated with honors in 2010.