Federal Guidelines on the Collection of Child Support Arrears
By Kevin Owen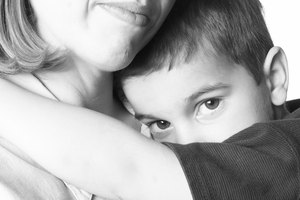 Hemera Technologies/AbleStock.com/Getty Images
In 1975 Congress passed the Child Support Enforcement and Paternity Establishment Program, or CSE, in response to increasing enrollment in federal welfare programs of children of separated parents. The Federal Office of Child Support Enforcement of the U.S. Department of Health and Human Services was established by the CSE to provide assistance to state and local law enforcement and social services agencies in creating and operating their child support enforcement programs. If administrative and local enforcement efforts are insufficient in aiding the collection of child support, the Deadbeat Parents Punishment Act of 1998, or DPPA, provides for federal criminal prosecution of the most severely delinquent child support violators.
Federal Agency
The Federal Office of Child Support Enforcement, or OCSE, operates in all states and territories in the United States to assist state and local agencies in enforcing child support payments. The OCSE's primary function is to provide policy guidance and administrative assistance to state and local agencies to aid in their child support enforcement missions. The OCSE also provides funding to state and local agencies through direct financial support to local agencies and grants for parental access and child visitation programs.
National Databases
The federal agency also assists in the enforcement of child support payments by maintaining the Federal Parent Locator Service, or FPLS. The service maintains two databases that state and local officials may use to locate parents who owe child support. The first database is the Federal Case Registry, which identifies all persons who owe child support and judicial orders regarding child support. The second database is the National Directory of New Hires, which has information about employment, unemployment benefits and wage earnings. The FPLS can also locate individuals using data resources from the Internal Revenue Service, Social Security Administration and the Federal Bureau of Investigation.
Enforcement
The OCSE also assists state and local officials in taking action against parents who are delinquent in paying child support. OCSE, through its Federal Tax Refund Offset Program, has the authority to intercept delinquent parent's federal tax refunds for payment to the custodial parent. Furthermore, OCSE may take additional action to restrict the travel of delinquent parents. If OCSE is notified by a state that a parent owes more than $2,500 in back child support, OCSE notifies the Secretary of State of the delinquency. This notification imposes a mandatory denial for any pending passport applications and could lead to restricted use or revocation current United States passports. The United States has also negotiated international treaties with several other nations that allow for reciprocal civil and criminal enforcement of child support payments.
Criminal Prosecution
The Deadbeat Parents Punishment Act of 1998 allows for federal criminal prosecution of severely delinquent parents who willfully withhold child support payments. Although federal criminal cases regarding child support are not common, the DPPA imposes prison time ranging from six months to two years, depending on the amount of delinquent child support owed. The federal law also imposes up to a two-year prison sentence for the felony conviction of a parent who crosses state or national borders in an effort to evade child support payments.
References
Resources
Writer Bio
Kevin Owen has been a professional writer since 2005. He served as an editor for the American Bar Association's "Administrative Law Review." Owen is an employment litigator in the Washington D.C. metropolitan area and practices before various state and federal trial and appellate courts. He earned his Juris Doctor from American University.