How Long Do You Have to Wait After Legal Separation to Finalize a Divorce in Colorado?
By Mary Jane Freeman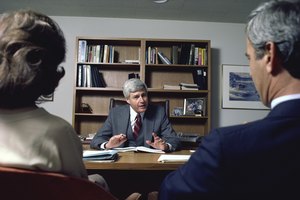 Jupiterimages/Photos.com/Getty Images
The process of getting a legal separation in Colorado is similar to the steps required to obtain a divorce. Once a Decree of Legal Separation is finalized, the spouses' responsibilities regarding property and debt division, spousal maintenance, child support and custody are established, just like in a divorce case. However, with a legal separation, the spouses remain married. Spouses sometimes choose this route for religious or economic reasons. If a divorce is desired later, either party may convert the separation into a divorce after six months have passed.
Requirements
In Colorado, to obtain a legal separation, you must file a Petition for Legal Separation in the county where either you or your spouse resides. However, you can only do so if either you or your spouse has been a Colorado resident for at least 91 days. In addition to the names and ages of both spouses and any children, marriage date and location, and separation date, you must also state your grounds -- or reasons -- for separating on the petition. Because Colorado is a no-fault state, you are not required to prove fault, such as adultery or cruelty, to obtain a separation. You need only show that your marriage is irretrievably broken. Spouses interested in divorce complete the same steps, except they file a Petition for Dissolution of Marriage instead.
Separation Agreements
Spouses seeking a legal separation have the option of entering into a settlement agreement. In such agreements, spouses typically outline how property and debts will be divided, amount and duration of any spousal maintenance, and a parenting plan outlining custody and visitation obligations if there are children of the marriage. Once reviewed and approved by the court, the separation agreement is incorporated into the separation decree and becomes binding on the parties. If spouses are unable to reach agreement, the court will schedule a hearing and decide the disputed issues for them.
Waiting Period
Spouses must wait 90 days for the Decree of Legal Separation to become final. This is the minimum amount of time that must pass before the court may finalize the separation; however, the process can take longer, especially if there are contested issues. If the spouses submitted a joint separation petition, the waiting period begins on the date the petition is filed with the court. If only one spouse filed the petition, the waiting period begins on the date the petition is served on the other spouse.
Conversion
Spouses who enter into a legal separation may remain separated indefinitely. However, either spouse may convert the separation into a divorce once six months have passed since the separation decree was entered. Unless the parties elect to make changes, the terms of the separation agreement are typically incorporated into the divorce decree and serve as the final agreement.
References
Writer Bio
Based on the West Coast, Mary Jane Freeman has been writing professionally since 1994, specializing in the topics of business and law. Freeman's work has appeared in a variety of publications, including LegalZoom, Essence, Reuters and Chicago Sun-Times. Freeman holds a Master of Science in public policy and management and Juris Doctor. Freeman is self-employed and works as a policy analyst and legal consultant.