Divorce Law in New Hampshire for Alimony
By Elizabeth Rayne, J.D.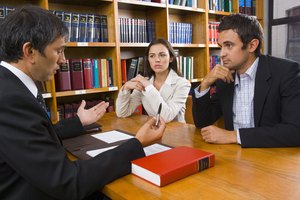 Pixland/Pixland/Getty Images
Following a divorce, alimony may be awarded to help a struggling spouse transition to single life, with the hope that both spouses will eventually secure an independent source of income. In New Hampshire, courts rarely award permanent alimony. In determining short-term alimony, the courts will consider the relative income of each party and each party's ability to make money.
As part of a divorce order, a court may award alimony, meaning that one spouse must make payments to his former spouse. Generally, a spouse will request alimony in the initial divorce pleadings. However, New Hampshire allows spouses to request alimony up to five years after the divorce order is finalized. A court will typically award alimony upon finding that one spouse does not have the income or property to reasonably support her needs and is unable to become self-supporting through appropriate employment. Further, alimony will only be awarded if the other spouse has the financial ability to pay while also supporting himself.
Determinations
When a court finds that alimony should be awarded due to the financial circumstances of each spouse, it will look at a number of factors to determine the alimony amount. The court may consider any facts it finds relevant, including the length of the marriage, age and health of the spouses, ability of each spouse to earn an income based on education or training, and marital fault of either spouse in causing the divorce. Further, the court will look at the standard of living enjoyed by the spouses before the divorce. At the discretion of the court, it may consider non-financial contributions either spouse made during the marriage, such as taking care of the home and children, allowing the other spouse to work or attend school.
Types
New Hampshire courts may award different types of alimony, although most alimony awards are rehabilitative. The presumption under state law is that most spouses are capable of supporting themselves financially and alimony should only be awarded on a short-term basis. Rehabilitative alimony provides support for a spouse while she takes steps to secure an independent source of income, for example, by returning to school or acquiring skills to return to work. The court may also award permanent alimony; typically, this occurs in cases where a spouse was in a long-term marriage and lacks necessary job skills, is unable to work because of physical or mental illness, or must care for a dependent child. Further, New Hampshire courts may award lump sum alimony, providing a larger single payment to one spouse, or periodic alimony, smaller payments made over a period of time.
Modification
If circumstances have substantially changed since the original alimony order was put in place, you may file a motion to modify the alimony order. A change of circumstances may include increased income of either spouse, new employment or a large inheritance. However, New Hampshire courts will only grant modification if the change of circumstances was not known at the time the original order was put in place. For example, if the spouses and the court were aware that one spouse was starting a new job a few months after the original alimony order was granted, the court likely would not grant a modification despite the increased income.
References
Writer Bio
Elizabeth Rayne earned her J.D. from Penn State University and has been practicing law since 2009, advising clients on issues ranging from employment law to nonprofit management. For two years, she served as a contributing editor for the "Vermont Environmental Monitor."