Punishment for Not Paying Child Support in the State of Nevada
By Heather Frances J.D.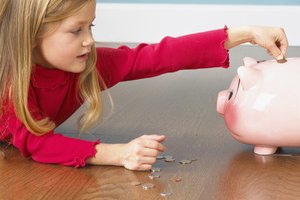 Brand X Pictures/Brand X Pictures/Getty Images
In Nevada, the amount of child support you have to pay is set by state guidelines based upon a percentage of your gross monthly income. The amount starts at 18 percent for one child if your ex-spouse has primary custody. This can be a hefty amount, especially if you are paying for more than one child. For example, if you have four children, you could be required to pay as much as 31 percent of your gross income. And, if you don't pay child support as ordered, you can be punished financially, administratively and even criminally.
Child Support Services
A custodial parent can receive help from the Nevada Department of Health and Human Services' Child Support Enforcement Program, or CSEP. If you aren't paying child support as ordered, your ex-spouse can apply to receive enforcement assistance from her county's child support office. For example, if your ex-spouse lives in Clark County, she can receive help from the Clark County District Attorney's Family Support Division by filling out an application and providing some basic information. The Family Support Division can file collection requests with the court on her behalf, including requests for the court to order various types of financial, administrative and criminal punishments.
Court Enforcement
If you don't pay your support as ordered, the court can garnish your wages and seize your tax refund or lottery winnings. If you do not have a job, the court can order you to get a job and garnish your wages once you find one. If you own real estate, the court can put a lien on your property for the amount of your overdue support, and if you receive government benefits, the court can take money from those benefit checks. For example, if you receive a military pension, the court can order the child support deducted from that pension. Money seized by the court is paid directly to your ex-spouse.
Administrative Enforcement
The court can also impose non-criminal punishments to encourage you to pay your overdue child support. It can order suspension of your driver's license, professional licenses, recreational licenses and other certificates or permits. You may even lose your passport if your past-due support amounts are high enough.
Criminal Enforcement
Knowingly failing to pay child support is a crime under Nevada law and, under some circumstances, federal law. The prosecutor typically must prove that you are unemployed or underemployed by choice or that your excessive spending caused your inability to pay. If you are found guilty, the maximum penalty for the first offense if you owe less than $10,000 is six months in jail and $1,000 in fines. If you owe more than $10,000, or it is not your first offense, you could be punished by up to five years in prison and $10,000 in fines.
References
Writer Bio
Heather Frances has been writing professionally since 2005. Her work has been published in law reviews, local newspapers and online. Frances holds a Bachelor of Arts in social studies education from the University of Wyoming and a Juris Doctor from Baylor University Law School.