Divorce by Default
By Shannon Johnson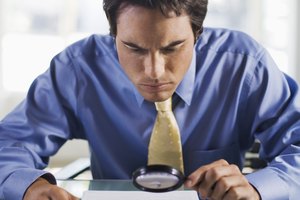 Brand X Pictures/Brand X Pictures/Getty Images
A divorce by default is one of the simplest ways to divorce. It generally occurs when one spouse doesn't answer a divorce complaint within the required time frame. Sometimes, when spouses are in agreement as to the grounds and terms of the divorce, they might decide to obtain a divorce by default as a way to avoid the additional paperwork involved in completing an uncontested divorce process. Each state has its own set of rules regarding fees, service and documents concerning the divorce process. You can use an online legal document service to prepare and file all your divorce paperwork.
Complaint for Divorce
A divorce complaint, called a petition for divorce in some states, is the document that begins the divorce process. On your complaint, you must indicate your name, your spouse's name and the names of any children you have together. You must also state your ground, or reason, for filing a divorce. All states provide for some form of no-fault divorce, meaning that one party does not have to prove that the other party is at fault to obtain a divorce. Some states do not have any fault grounds for divorce, which means that you can only obtain a no-fault divorce. Your complaint also indicates if there is any separate property or community property -- and the terms of divorce you desire regarding the division of debts and property, as well as child custody, and child or spousal support.
Filing the Complaint
Once you prepare the complaint, you need to file it with the clerk of court in your county of residence. There is a filing fee that varies from state to state and even county to county. In addition to other divorce paperwork, which varies by state, you must file a summons with the complaint. The summons is the document that informs your spouse that you filed for divorce and indicates the date by which she needs to respond, or answer, your complaint.
Service of Process
Serving your spouse with the summons and complaint is essential for your default divorce to proceed. Depending on where you live, you may be able to serve your spouse in several ways including by hiring a process server, certified mail, or first class mail as long as you include an acknowledgment form that your spouse will need to sign, date, and return to indicate that he received the paperwork. The court requires proof of service. Once your spouse is officially served, the clock begins to tick on his time limit to respond, which is typically 20 to 30 days.
Default
If your spouse is not in agreement with the terms set forth in your divorce complaint, you can work together to reach a marital settlement agreement and custody agreement, which might involve mediation. If your spouse agrees to the terms set forth in the divorce petition, or simply doesn't want to respond, he can choose not to file a response or any other paperwork with the court. If your spouse does not respond within the time frame indicated on the summons, you should file a motion for default. The court will then set a date to hear the case -- and send notice of the hearing to you and to your spouse's last known address.
Default Divorce Hearing
If your spouse did not answer your complaint -- and does not show up at the final hearing -- the court will most often approve the terms set forth in your complaint. The clerk generally will provide a certified order of default divorce before you leave the court. If your ex-spouse wants to contest the divorce judgment -- and simply missed the opportunities to file his response and attend the hearing -- he can generally file a motion with the court, asking the judge to vacate or undo the final divorce judgment. In this case, he will have to prove to the court that he had valid reason for not responding appropriately. He will also have to prove that you aren't entitled to the requested terms of divorce. If the judge vacates the judgment, allowing him to file his paperwork, he can appeal the court's decision.
Writer Bio
Shannon Johnson graduated from Mercer University School of Law in 2000. She practiced law for five years before beginning her writing career. She currently writes for several legal and non-legal online publications. Johnson has also taught legal research and writing, music business law and entertainment law.