What if My Wife Defaults in a Divorce in California?
By Teo Spengler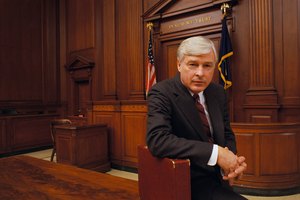 Comstock/Comstock/Getty Images
It takes two to tango, but only one to divorce in California. A spouse properly served with divorce papers cannot prevent the dissolution of the marriage by refusing to respond. In fact, your spouse's failure to file a responsive pleading allows you to file for a judgment based on your papers only, termed a default judgment. You must use the appropriate forms and follow the mandated procedures to request a default divorce.
Serving Divorce Papers
A spouse initiates a divorce action in California by filing a petition for divorce. The petition -- form FL-100 -- sets out the basic facts about your marriage and outlines the relief you seek. The summons -- form FL-110 -- advises your spouse that she has 30 days after the petition and summons are served on her to file a response. The summons also states that if no response is filed, the court can make orders affecting the marriage, dividing property and awarding custody of the children. You should file your disclosure papers giving your asset and income information at the same time as the petition since they must also be served on your spouse.
Service
After the forms are filed with the court, you must arrange for someone over the age of 18 to personally hand the papers to your wife if she lives in California. You can ask a friend or family member or hire a professional process server. If your spouse lives outside of California, you can generally serve by certified mail. The person serving the papers must fill out and file with the court a proof of service describing exactly how the spouse was served.
Failure to Respond
The 30-day period for your spouse to respond begins the day the process server hands her the documents. Your spouse now has several options. She can file a response -- form FL-120 -- and oppose your requests; file a response and agree to your requests; or fail to respond at all. Sometimes a couple can come to an agreement on divorce issues before the 30-day period passes. If a spouse fails to respond to the divorce petition because she is relying on this written agreement, the default is only a technical one since she participated in the binding agreement. A true default occurs when a spouse declines to participate at all in the divorce issues.
Request for Default Judgment
You are not automatically divorced at the end of the 30-day response period even if your spouse does not respond. You must fill out and file with the court a request to enter default -- form FL-165, a declaration in support -- form FL 170, a proposed judgment -- form FL 180 and a proposed notice of entry of judgment -- form 190. In some counties you must also file forms revealing your property ownership and finances. If you request more than a simple dissolution of marriage, you must fill out additional forms. For example, you need to submit forms to seek custody, child support, spousal support or property division, as well as any forms required by local rules in your jurisdiction.
Entry of Default Judgment
Once you file the original and copies of these papers with the court clerk, he mails one copy to you and one to your spouse. She may appear in court and seek relief from a default judgment under section 473 of the California Code of Civil Procedure. Surprise, mistake and excusable neglect are statutory grounds for not answering the petition in a timely manner. If your spouse does not make a motion to avoid default, or loses that motion, the court will award judgment in your favor by granting your requests as set out in the petition if you filed the appropriate documents. Sometimes courts ask that you appear for a hearing where you must prove to the court's satisfaction the matters set forth in your papers. Once the court rules, the clerk will send you a Judgment and Notice of Entry of Judgment. Under California law, a divorce judgment cannot be entered until six months after the petition for divorce was filed.
References
Resources
Writer Bio
From Alaska to California, from France's Basque Country to Mexico's Pacific Coast, Teo Spengler has dug the soil, planted seeds and helped trees, flowers and veggies thrive. World traveler, professional writer and consummate gardener, Spengler earned a BA from U.C. Santa Cruz, a law degree from Berkeley's Boalt Hall, and an MA and MFA from San Francisco State. She currently divides her life between San Francisco and southwestern France.